Cyber Security - Knowing your risks
A risk assessment with a cybersecurity lens allows a business to allocate resources to the cyber risks that pose their biggest threats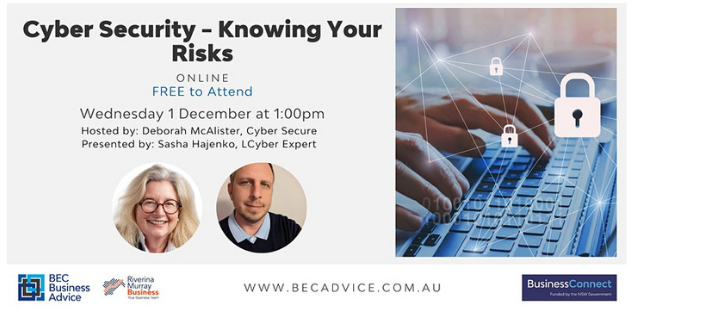 No matter what size your business is it pays to know the risks you face.
A risk assessment with a cybersecurity lens allows a business to allocate resources to the cyber risks that pose the biggest threat to operations, reputation and revenue.
In this webinar we'll learn:
What cyber security risks your business may face
What those risks mean for your operations
How can reduce them?
This interactive workshop hosted by Deborah McAlister, with cyber expert Sasha Hajenko will guide you through the process of performing a cyber risk assessment on your business.
About your host, Deborah McAlister:
Deb delivers the Enterprise Cyber Secure (ECS) program for the BEC, with the aim of showing businesses how to stay safe online.
ECS will be running webinars with information on how to stay safe online as well as educating businesses on the pitfalls if they ignore cybersecurity. As we move more and more to online shopping, transactions, working from home, banking, and online meetings ECS is wanting to make sure that at the very least business start to take cyber security seriously and not think "it won't happen to me". The main aim of this program is to educate and prevent businesses from being in the dark from cyber security attacks.
About the presenter, Sash Hajenko:
Sasha is a talented cybersecurity professional, with over 20 years of experience in the IT sector. He has provided operational support, project management and delivery, strategic advice, and consulting services to a diverse range of industries across businesses of all sizes, from micro-businesses and startups, NGOs and NFPs, to SMEs and organisations with 1000+ staff across multiple sites around the globe.
His passion is combining his business acumen and technical skills to address cybersecurity with a holistic approach, making sure that cyber risks to any business are addressed with the most appropriate measures in line with regulatory requirements and best practices. Sasha joined the SRBEC team to provide cybersecurity advice, expertise and education to SMEs on the importance of cybersecurity to their business.
About Business Connect:
Business Connect is a dedicated and personalised NSW Government program that provides trusted advice to help you start, run, adapt or grow your small business.