Cyber Security Awareness and Information Workshop
Hear from cyber security experts over breakfast, with real stories sparking varying viewpoints amongst key panelists and the audience.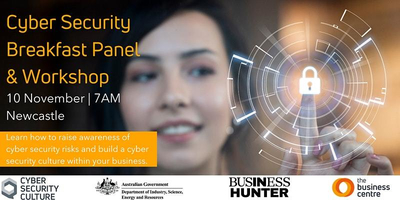 Panelists have a vast range of experience within the cyber security landscape, including regional, national and global experiences. SMEs will have the opportunity to hear from key experts with the chance to ask direct questions.
After the panel session has closed there will be a brief networking session, followed by a canvas workshop facilitated by cyber experts for business guests to deep dive into their current business assets, associated risks, policies and procedures, roles and responsibilities currently in place and then action how to upskill, respond, govern and the controls and defenses needed.
Cyber Security experts will also have a range of knowledge to share regarding other valuable workshops, team building and further advice or support.
Industry Expert Panelists:
Dr. Alana Maurushat, is Professor of Cybersecurity and Behaviour at Western Sydney University where she holds a joint position in the School of Computers, Data and Mathematical Sciences, and in the School of Social Sciences.
Chantelle Buultjens is A/g Assistant Director at the Department of Home Affairs. Chantelle is the Cyber Security Outreach Officer for NSW.
Troy Filipcevic is Founder and CEO of Emergence, an underwriting agency 100% focusing on providing insurance solutions for Cyber risks.