E-powering a decarbonised future (online)
Achieving a green energy future requires international cooperation. Australia and the People's Republic of China's (PRC) shared goal to advance decarbonisation renders the two nations potential partners for this endeavour.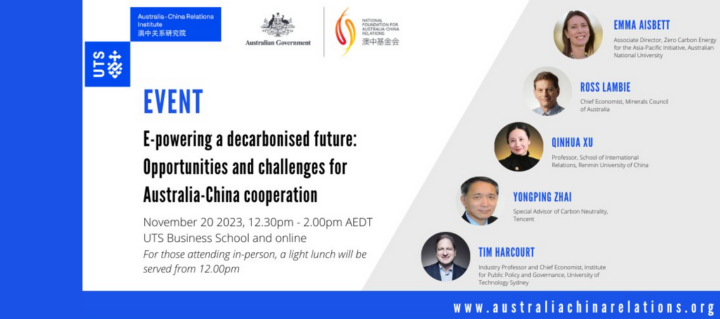 How can collaboration between the two nations can accelerate decarbonisation? What challenges lie in the quest for a decarbonised future? What are the new avenues for growth in Australia's green economy?
The Australia-China Relations Institute at the University of Technology Sydney (UTS:ACRI), with support from the National Foundation for Australia-China Relations (NFACR), will host a panel discussion exploring these questions and more.

Panellists include Associate Professor Emma Aisbett, Associate Director of the Zero Carbon Energy for the Asia-Pacific Initiative (ZCEAP) at the Australian National University; Dr Ross Lambie, Chief Economist at the Minerals Council of Australia; Professor Qinghua Xu, Professor of International Political Economy and International Relations at the People's University of China; and Dr Yongping Zhai, Senior Advisor on Carbon-Neutrality at Tencent Holdings Ltd. The panel will be moderated by Professor Tim Harcourt, UTS:ACRI Research Associate and Industry Professor and Chief Economist at the UTS Institute for Public Policy and Governance (IPPG).

This is a hybrid event, with the opportunity to attend in-person or online. To register for the in person session, go here.