Energy and Innovation Conference 2022
REROC is proud to present a two-day conference showcasing the latest innovations in energy generation, energy management and energy efficiency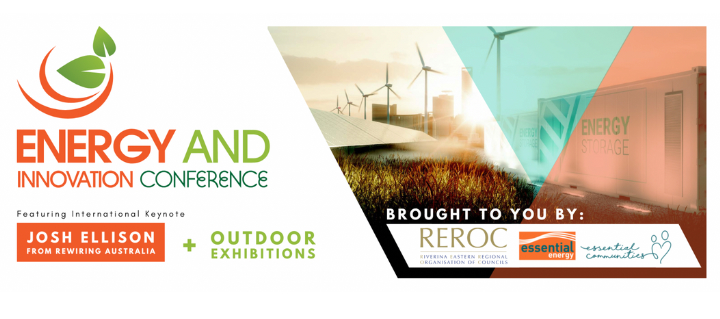 The Conference will feature:
Presentations from Industry Leaders - Essential Energy, Snowy Hydro 2.0, CSIRO, UTS, ARENA, DPIE, SunSPoT, BRC-A , Presync, Next Energy Lighting, Simply Sustainable & more!
Trade Stands and Networking Opportunities
Outdoor Exhibitions of the Latest in Solar Farms, EV Fleets and more!
with International Keynote Speaker: Josh Ellison, Scientist at Re-Wiring Australia
The Conference will highlight energy policies, electric vehicle infrastructure, renewable energy procurement, solar arrays and solar farms and the Net Zero approach. A wide variety of topics will be covered, providing participants with the opportunity to broaden their knowledge about the sector, hear about some of the amazing innovations that are occurring and learn how councils, business and communities can benefit from them.
The Conference offers excellent opportunities for networking with over 100 attendees across the industry from business, government and community.

Email Andrew Trenaman, Events Coordinator on projects@reroc.com.au to secure your package.