Environment & Sustainability Forum – The business imperatives of sustainability
Come and listen to some diverse examples of HunterNet members' journeys towards the net zero goal of sustainable viability.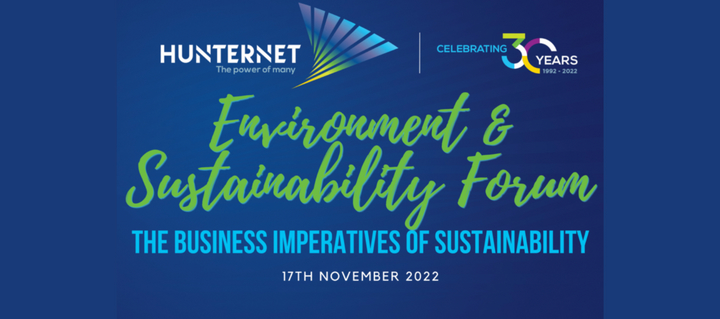 Environment & Sustainability Forum – The business imperatives of sustainability
The time has passed when adopting an environmental policy and a sustainability strategy in your organisation/business was an option, something that was "nice to have", something based upon an ideology, or something only attended to if surplus cash was available. The ESG banner has become seemingly fashionable – is it a corporate social responsibility, or is it because the economic landscape has changed substantially?
Come and listen to some diverse examples of HunterNet members' journeys towards the net zero goal of sustainable viability, and how it offers up not just survivability, but the opportunity to enhance vitality. What was their impetus behind the decision to pursue? What was and continues to be considered? What is being done? What is optional compared to what is essential in the near term? In a world more attuned to "greenwashing", hear from others what it takes to genuinely pursue the net zero goal in a cogent and sensible way.
Presenters
Wabtec – Wabtec is a leading global provider of equipment, systems, digital solutions and value-added services. For more than 150 years, Wabtec has looked for ways to improve safety and make a positive impact on people and the planet. Today, the scope of sustainability requires broader consideration across the environmental, social, and economic landscape, so we must find more ways to enable efficiency, innovation, and human connection. Dean Newburn is Regional Vice President Global Services – Asia Pacific covering India, South East Asia, Indonesia, China, Australia and New Zealand. Dean has over 15 years of experience in the rail industry, incorporating various commercial and operations leadership roles and holds a bachelor's degree in Electrical Engineering from the University of Newcastle. Dean was part of the 2021 Alumni of the HunterNet Future Leaders Program. Over the coming year, his team will be responsible for the first Heavy Haul Zero Emissions Battery Electric Locomotive service implementation in the world occurring in Western Australia to ensure it can safely and efficiently operate to decrease emissions.
Ampcontrol– Ampcontrol delivers integrated electrical, electronic and control solutions to improve safety and efficiency in mining, renewable, infrastructure and industrial applications. What sets us apart is our ability to engineer unique solutions that deliver on both performance and reliability. To achieve this, Ampcontrol work in partnership with our customers, lending our electrical engineering expertise to their operational challenges. From the most complex electrical infrastructure to the most hazardous industrial environments, we engineer solutions which focus on whole of life optimisation. Simon Coleman - General Manager Health Safety Environment & Quality one of Australia's largest and most successful electrical engineering and manufacturing companies operating across 30 sites around the world. Simon joined Ampcontrol in 2018, bringing over 20 years' experience of HSEQ roles in the mining & manufacturing sectors. Simon is leading the development of Ampcontrol's Sustainability Plan, and drives the continuous improvement of the Health, Safety, Environment & Quality systems, culture, and performance.
3ME Technology is focused primarily on the provision of customised battery electric vehicle and energy storage systems for heavy-duty and specialist applications such as mining, military and marine. 3ME Technology advances safety, efficiency and performance of vehicle/platform operations for applications with heavy-duty and specialised requirements, whilst concomitantly reducing environmental impacts. Declan Stokes – Declan Stokes leads the analysis behind 3ME Technology's strategy and business operations function, including understanding sustainable batteries through Life Cycle Engineering and the development of the organisation's approach to sustainability. Declan has 10 years of experience in the energy sector, in varying technical and commercial roles including with Royal Dutch Shell and Origin Energy. Declan holds a Bachelor of Engineering and Master of Business Administration from the University of New South Wales.
Aon Insurance - Aon plc (NYSE: AON) exists to shape decisions for the better — to protect and enrich the lives of people around the world. Our colleagues provide our clients in over 120 countries with advice and solutions that give them the clarity and confidence to make better decisions to protect and grow their business. Deb Gibson - Client Director. Deb is passionate about finding creative solutions to the unexpected. Her current focus is on group risk transfer and alternate risk solutions that assist clients in addressing issues across sectors and classes of insurance. With over 30 years of experience, Deb thrives on strategic long-term solutions that will stand the test of time. She is a member of the Inclusion Business Resource Group, Aon's Colleague empowerment Council in Australia, and the Asia-Pacific Regional Inclusion and Diversity Sub-Committee.
Who should attend: eg. General Managers, MDs, Board Members, Environment Managers, Strategy Planners