Eramet Safety First Innovation Challenge Webinar
Austmine is pleased to partner with global French mining and metallurgy group Eramet, to bring a new open innovation opportunity to the Australian Mining Equipment, Technology and Services (METS) sector.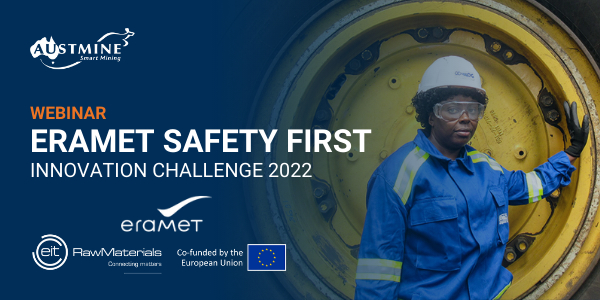 Eramet has embarked on a new innovation journey in partnership with EIT RawMaterials: The Eramet Safety First Innovation Challenge 2022 to promote the development of novel solutions for occupational safety in the mining and metals industry.
This Challenge highlights Eramet's vision to grow its partner network and provide access to a rich variety of interesting start up and SME players for their own strategic purposes.
The Challenge focuses on four key areas:
Safety of lone workers in Exploration
Hazard detection and prevention systems
Human-machine interaction in Mining & Metallurgical Processing
Transport & Logistics in Mining
In this webinar, Austmine will be joined by Marion Lenoir, Head of Open Innovation Department, Eramet and Frederic Camuset, Group Safety & Prevention Vice President, Eramet who will explore:
An overview of the Eramet Group's global mining and metallurgy operations
The objectives of the Eramet Open Innovation Department
Key dates, details and instructions for participating in the Eramet Safety First Innovation Challenge 2022
Technical information about the safety priorities of focus for the Challenge
Registration
This webinar is open to Austmine members and non-members. If you need assistance when registering contact membership@austmine.com.au.