Export Capability Building workshop – Growing your Exports
This NSW Export Capability Building workshop is aimed at businesses seeking to initiate export activities, or export-ready businesses looking to consolidate their knowledge and maximise long-term export gains.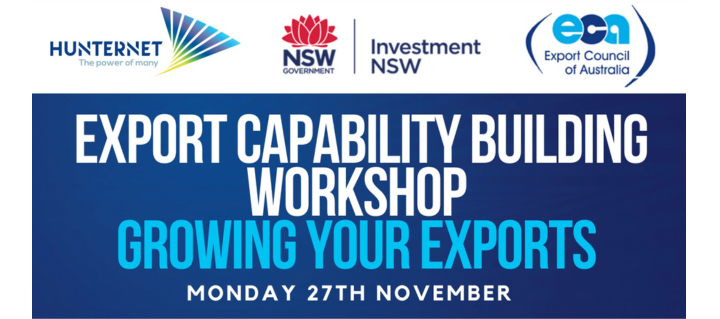 This Introduction to exporting workshop is aimed to increase your business' export-readiness. The workshop will also include a number of informative discussions on topical issues for exporters, including export fundamentals and reviewing your business capacity and capability.
The workshop is brought to you by Investment NSW, HunterNet and the Export Council of Australia.
The workshop will address the following topics to enhance participant's export knowledge and capability:
Is going global right for your business?
Reviewing your business capacity and capability
Identifying your market (market research)
The importance of having an export plan
Getting your value proposition right and protecting your IP
Discovering sales channel opportunities (eCommerce)
Freight, logistics and pricing
Accessing finance and getting paid
About the Speaker, Dianne Tipping – Chair, Export Council of Australia / Managing Director, Excon International Pty. Ltd.
Dianne has enjoyed a long and varied career in international trade promotion and facilitation. Dianne has been Chair of the Export Council of Australia for 8 years.
She is a commercially astute senior leader with a proven track record within the trade community.
With over 40 years' experience and a background in both the business ownership and project management of greenfield projects is helping guide the growth of Australian trade by serving on several Boards and sharing critical knowledge and insights.
Dianne is involved with many public and private organisations dedicated to the betterment of international trade as well as a participant on numerous Government and Non-Government Committees including the ABF Customs Advisory Board, Dept. of Home Affairs' National Committee on Trade Facilitation and the Dept. of Agriculture and Water Resources' DAWE Cargo Consultative Committee.
Key Facilitator – Sharon Foster | Senior Export Adviser/TradeStart Adviser | Trade and Exports – Investment NSW

Who should attend?
NSW Businesses (with products and services for export)
aspiring and new exporters
existing exporters looking for a refresher
Please RSVP by 5:00pm, Thursday 23 November 2023
The workshop is FREE, and light refreshments will be served
Arrival tea served from 9.30AM | Workshop will start at 10.00AM