Festival Of New Thinking - Business Resilience
Ensuring business resilience is more important than ever, and continuity planning is something every business should be considering.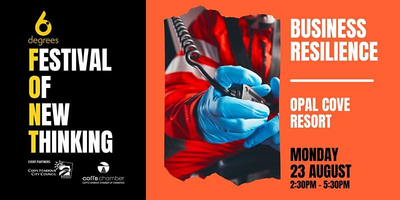 6 Degrees and Coffs Harbour Chamber of Commerce have collaborated to bring you this event.
You will hear from a wide range of service providers in order to identify and plan for risks to your business:
Emergency Preparations, SES
Legal Risks and Insurance, DRLS
Government Support, Service NSW
Mental Health Awareness and Support, CHESS Connect
Physical & Online Safety, Warrgambi
The event will also include a 1.5 hour hands on, practical workshop led by Tim Donovan from Warrgambi to uncover the reasons why continuity planning is important for your business and will share with you a range of easy to use tools and templates you can implement in your business.
There will be an opportunity to ask questions directly with service providers at their stands and network with other business attendees during our afternoon tea session.
So many reasons to attend:
Walk away with a basic continuity plan for your business!
All the knowledge gathered in one place.
Focused presentations honing in on your key issues.
Direct access to the service providers that can help you plan for the future.
Easy to use Tools and Templates to keep your business up and running.