From adversity to advantage SESSION 2: Healthy Culture
This webinar is one of a five part webinar series hosted by NERA that explores business resilience for small to medium businesses (SMEs).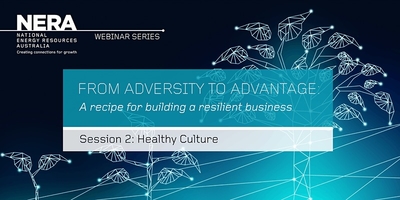 A healthy culture is critical to a business's ability to be effective and adaptive for long-term sustainability.
An organisation's culture is the shared assumptions, values and beliefs that determine how people behave. Any group of people who come together regularly will develop a culture – some will be positive and constructive, and some will be less so. Intentionally building a healthy culture is at the core of a resilient business.

In this session, Bill Withers will explore some of the stories behind the shift from implicit to explicit values and how he worked to embed them across an organisation.
Key details of the webinar
Date: Thursday 7 May
Time: 11:00am-12:00pm (AWST)
Hosted Online via Zoom- once registered, you will receive the link to join the webinar one day prior to the event
Attend session 2
Simply click the REGISTRATION button to reserve your space. One day prior to the webinar you will receive an email with the link to join.
For more information about the event, please contact NERA Events - events@nera.org.au