From adversity to advantage SESSION 3: Economic Engine
This webinar is one of a five part webinar series hosted by NERA that explores business resilience for small to medium businesses (SMEs).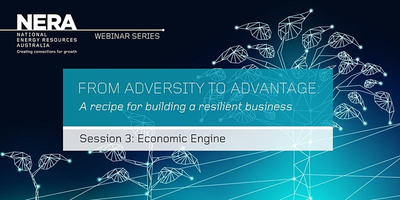 Your economic engine refers to the products and services you take to the market and the process for delivering value to your customers. It is at the heart of your business. If it isn't robust and viable – it is likely there will be no business at all! The way you engage, deliver and support your customers is so important and can be the differentiating factor between you and other organisations offering the same product or service in the market.
In this session, Bill Withers will explore the importance of understanding and potentially innovating the economic engine for business resilience.
Key details of the webinar
Date: Thursday 14 May
Time: 11:00am-12:00pm (AWST)
Hosted Online via Zoom- once registered, you will receive the link to join the webinar one day prior to the event
Attend session 3
Click the registration button to register. One day prior to the webinar you will receive an email with the link to join.
For more information about the event, please contact NERA Events - events@nera.org.au