From adversity to advantage SESSION 4: Financial Security
This webinar is one of a five part webinar series hosted by NERA that explores business resilience for small to medium businesses (SMEs).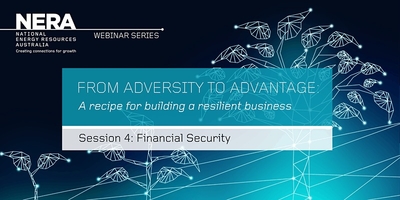 In a resilient organisation, it is important there is a high level of business literacy. It isn't the responsibility of the 'finance department' or an external accountant to manage, it is the responsibility of all leaders to have access to, and be able to recall, the critical numbers, and that these are transparent to the entire organisation.
In this session, Bill Withers will explore strategies for managing financial security effectively in times of rapid change and instability.
Key details of the webinar
Date: Thursday 21 May
Time: 11:00am-12:00pm (AWST)
Hosted Online via Zoom- once registered, you will receive the link to join the webinar one day prior to the event
Attend session 4
Click the registration button to register. One day prior to the webinar you will receive an email with the link to join.
For more information about the event, please contact NERA Events - events@nera.org.au