Gateway Cities Webinar Series :: The Future of Work - Who, How and Where
The Gateway Cities Webinar Series aims to discuss challenges that the gateway cities of Geelong, Newcastle and Wollongong currently face.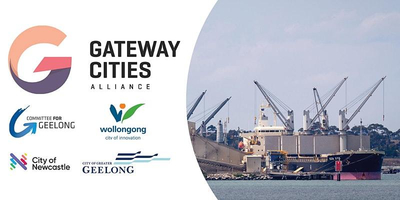 Hosted by the University of Wollongong
Join to discuss the jobs of the future, employment pathways and the ability to work from anywhere.
The presentations will be followed by an interactive conversation led by the Lord Mayor of Wollongong, Cr Gordon Bradbery AM.
The Gateway Cities Alliance works together to provide a collaborative and collective approach to ease population pressures on Australia's Gateway cities. The shared and unique characteristics and strategic assets of the cities of Wollongong, Newcastle and Geelong can be deployed to maximise national economic growth, regional resilience and job creation for Australia's long-term settlement strategy.
Australia's Gateway Cities share the following characteristics: Geographically well-defined jurisdictions that are predominantly urban while still allowing for a significant agricultural economic base, Gateway Cities undertake significant public administration and public policy functions which may have a direct impact on the governance and well-being of the nation in addition to the relevant Capital City.