Gender Equity in Industry: How Far Have We Come?
A panel discussion on the approaches Hunter industries are taking to enable successful STEM careers for women.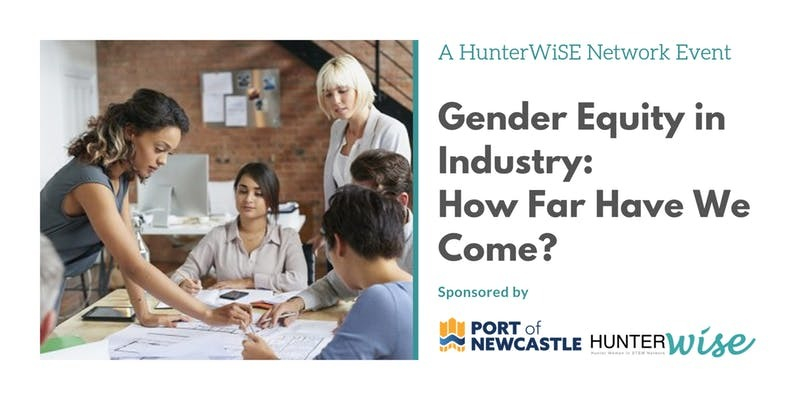 About this Event
Hear from representatives of Port of Newcastle, GHD, Hunter Water and Muswellbrook Shire Council, as they share their strategies for encouraging and supporting females in the workplace, and contribute to a robust discussion on ways we might smooth the way for current and potential female employees in STEM into the future.
Panelists
Wendy West, Port of Newcastle
Passionate about leadership and advocating for women in the workforce, Wendy is a Mentor for the Hunter Women in STEM network. As Port of Newcastle's Infrastructure Engineer, Wendy's responsibilities include strategic planning, asset management, contract management and the provision of technical and WHS advice for the organisation's utility networks. Wendy leveraged her qualifications as an environmental engineer and in project management to build a successful 20-year career in local government and in a number of New South Wales government agencies. She has expertise in water, sewerage, construction, waste and infrastructure management. She has also served as a member of the New South Wales branch of the Australian Water Association Trade Waste Committee.
Lisa Warren, Hunter Water
Lisa has been working in HR since 2007 starting off in medical device and clinical research industries before taking on a number of HR roles in higher education at Macquarie University, University of NSW and the University of Newcastle. She currently works as a Senior HR Business Partner – Diversity and Inclusion at Hunter Water where she has been for almost 3 years. Lisa has a Bachelor of Arts, a Diploma in Languages, a Diploma in HR and a Masters in Management. She strongly believes in the value that D&I brings to a business and has been involved in many projects to drive change at Hunter Water including sponsoring HunterWiSE since its inception and managing the coordination and launch of Hunter Water's first Reconciliation Action Plan in July 2019.
Jo Lever, GHD
Jo is an accomplished engineer with over 15 years' industry experience in a diverse array of areas including design engineering, project management, operations and maintenance. An electrical engineer by background, Jo is the manager for GHD's Buildings and Power team leading a multidisciplinary team of industry professionals to deliver projects from the Hawkesbury to the Tweed, providing strategic direction and high level supervision of projects with a heavy focus on front-end feasibility and project definition. She is particularly motivated by projects that make a valuable contribution to the regional community and dedicates her time outside of work volunteering in several industry groups, in particular Engineers Australia – Women in Engineering and Master Builders Women in Buildings and Associated Services (WIBAS).
Kellie Scholes, Muswellbrook Shire Council
Kellie Scholes is the Manager of Roads, Drainage and Technical Services at Muswellbrook Shire Council. She has 30 years' experience of working in Local Government Engineering. Kellie has an Engineering Certificate and a Bachelor of Arts Degree in Geography and Planning. Her project background is diverse in discipline and scale and has included civil design and drawing, construction management and development of strategic documents for infrastructure and asset planning. She has been responsible for the delivery of a number of public domain improvement projects within the Muswellbrook Shire including the revitalisation of the town of Denman, and six (6) stages of streetscape upgrades in the Muswellbrook Central Business District including the railway underpass beautification project on the New England Highway. Kellie has taken all of these projects from the concept stage through design and final construction. In addition to the project management of these works she has developed guiding documents and specifications to assist with the planning and implementation of public domain works in the Shire, such as 'The Public Domain Manual', 'Acceptable Pavement Criteria' and Pavement Specification.