Green Hydrogen from Waste in a Circular Economy Webinar
The AIEN is pleased to launch their latest webinar leading up to the H2Aus2022 Hydrogen Forum to be held in Melbourne from 11 - 13 July. The second webinar of the series will present "Green Hydrogen from Waste in a Circular Economy".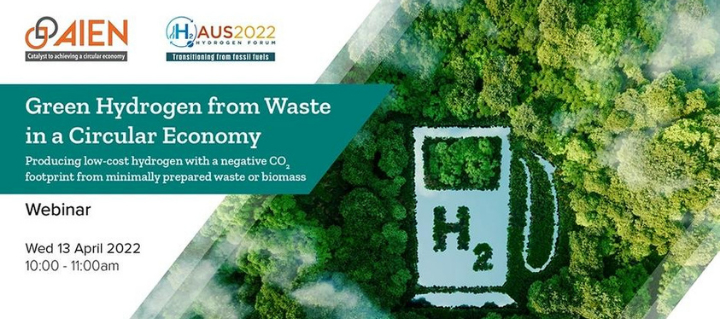 In this presentation, Marc Bacon, President and COO of OMNI Conversion Technologies will describe a new approach to making green hydrogen today at less than half the cost of electrolysis, all with a low or negative CO2 footprint.
This is done by converting minimally prepared MSW, RDF, biomass, ICI, or C&D waste to a clean syngas tailored to end use, then using proven industrial processes to produce renewable hydrogen from the syngas. The negative carbon footprint results from avoiding the anaerobic decomposition of waste in landfills. Electricity consumption is about 1/6 that of electrolysis.
The OMNI process is supported by data from over a decade of demonstration at a commercial scale. Delivery is de-risked by delivery in 200 tpd integrated shop assembled modular units with sufficient redundancy for high availability.
The Australian Industrial Ecology Network (AIEN) is a vibrant network of like-minded individuals, companies and institutions with a common interest in sustainable development through the study and practice of industrial ecology. We advocate the principles and concepts of industrial ecology in policy formation and business practice. The AIEN actively engages with organisations to facilitate improved performance and environmental benefits.