Gullen Range Wind & Solar Farm Public Tour
Come and see how it works. Get up close to a wind turbine and a solar array. Find out more about renewable energy.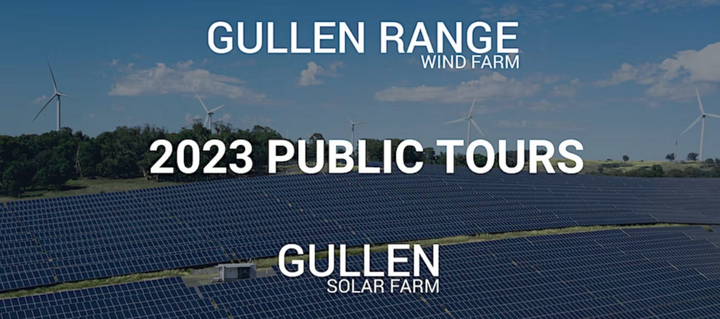 BJCE Australia is excited to offer tours of Gullen Range Wind and Solar Farm.
Stretching from north to south, the wind farm measures 22km, approximately centred on the locality of Bannister, 11km south of Crookwell and 32km north west of Goulburn. The solar farm is co-located within the existing Gullen Range Wind Farm and occupies an area of approx. 28 hectares.
What to expect on the tour:
You will be met at the Crookwell RSL Services Club, from there BJCE Australia staff will take you on a tour of the wind and solar farm in a 24-seater bus. You will be able to see how the wind and solar farm works, learn about renewable energy and get up close to a wind turbine and a solar array.
The tour is two and a half hours long and includes complimentary light refreshments.
Guests should arrive at the Crookwell RSL Services Club in Crookwell by 11:15am.
The tour bus departs promptly at 11.30am and returns at 1.30pm.
Guests are welcome to enjoy a complimentary coffee or tea before the tour.
A light lunch is served when you return.
Important Information:
BJCE Australia encourage guests to bring children on our tours. There is a word search they can complete along the way. Parents are asked to supervise their children closely at all times.
As you will be visiting an operational wind and solar farm, guests are required to wear enclosed, sturdy shoes and appropriate clothing for all weather types (sunny, rainy and/or windy). Please note: there are no toilets on the minibus however guests can use toilet facilities at the wind farm and at the Crookwell RSL Services Club before and after the tour.
If you require special assistance, please let BJCE Australia know on the booking form and they'll see how we can help.