HATCH 2023 :: Your lean canvas
HATCH 2023 is the UNE SMART Region Incubator's free program, providing tailored support and everything you need to know to grow your brilliant idea into a viable start-up business.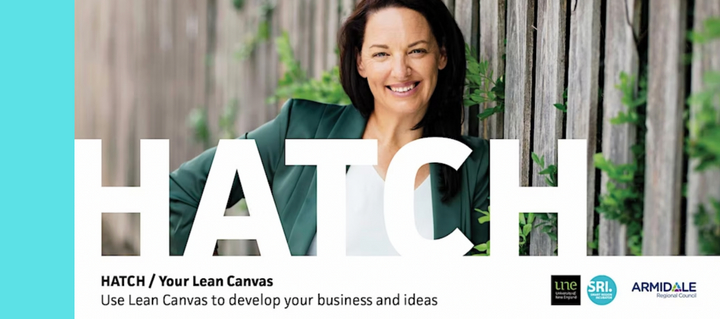 Over a 6-workshop program, HATCH 2023 participants will use Lean Canvas principles to move through ideation to commercialisation and give you the confidence to get your business, product or service off and running.
Your individual business idea will be tested
The path to market identified
Points of difference amongst your competitors articulated
Mentoring and community network connections made
Who the program is for?
HATCH 2023 is for anyone with an idea and curious about how to get it to market. Maybe you are:
A small business owner interested in strategic development or digital innovation
A school student with a startup idea
A parent wanting to work on a project together with your teenager
An academic interested in commercialisation of your research
A member of our community wanting to upskill or change careers
Is there a cost?
No. It is free for you! HATCH 2023 is funded by the NSW Government under the Bushfire Local Economic Recovery Fund and delivered in association with Armidale Regional Council.
What's in it for you?
HATCH 2023 will take participants from ideation to commercialisation, potentially getting a product to market within 6 weeks. Participants will take from the program:
6 learning sessions
Mentoring from startup Founder and entrepreneurship educator, Crystal McGregor
Connections into the startup network
Completion of the Lean Canvas framework
Tools to help build a successful startup
Confidence to pitch your idea to customers and investors
When are the HATCH 2023 sessions?
The HATCH 2023 program will be held on the following dates:
Your Lean Canvas - Tuesday 21st February 2023

Overview of the UNE SRI community & the HATCH 2023 Program
How to get the most out of HATCH 2023
Introduction to the lean canvas methodology and distribute free workbooks
Discussion on where participants are at with their ideas
Tools to help get through the rollercoaster of startup/business ownership
Founders can book a 1:1 with Crystal McGregor HERE

Customers and their problems - Tuesday 14th March 2023
Your solution + unique value proposition + channels to market - Tuesday 28th March 2023
Financials + Metrics - Tuesday 18th April 2023
Unfair Advantage + Pitch Practice - Tuesday 9th May 2023
Pitch Event - Tuesday 6th June 2023