How to start a business - South East, Tablelands, Illawarra & surrounds
This workshop helps emerging entrepreneurs to be aware, upfront, of what a transition to self-employment and owning a business involves.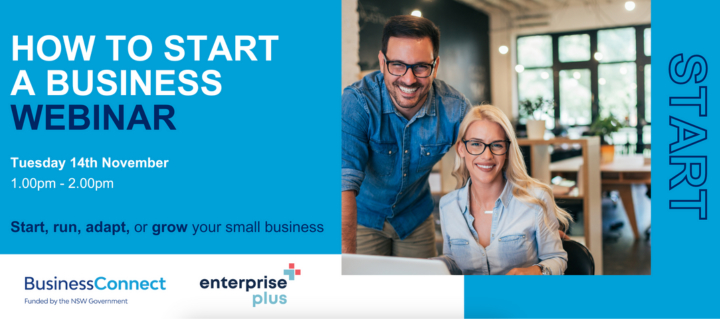 Starting a business is an exciting milestone. Learn how to bring focus to the business concept for strategic advantage. Understand how to identify a clear vision and key objectives for your new business. Have clarity around what are your core products or services. This workshop will impart practical tips to minimise risks and maximise success. Participants will gain access to tools such as a template to develop a succinct and effective one page business plan.
This webinar is aimed at small businesses throughout NSW who have just started or have an established business and we have the capacity to host up to 50 people.
PRESENTER: Darryl Tonks.
MODERATOR: Court Sayer-Roberts.
LEARNING OBJECTIVES:
1. Understand the Cashflow Quadrant and the transition to being self-employed.
2. Learn about the critical importance of having a clear vision and key objectives for your business.
3. Utilise the Enterprise Plus One Page Business Plan template and other tools.
LEARNING OUTCOMES:
1. Avoid surprises and pitfalls whilst transitioning to self-employment and/or business ownership.
2. Decision making made easier by adhering to your vision and key objectives.
3. Avoid distractions and bring focus to time management and allocation of cash and resources by following your business plan.
This Webinar will take place on Zoom. click BOOK EVENT to register. You will receive the Zoom link in an email from Enterprise Plus prior to the Webinar.
ABOUT ENTERPRISE PLUS:
Enterprise Plus is a not-for-profit that has delivered Australian, NSW, and ACT Government business advisory and education programs, workshops, and webinars, across regional NSW and the ACT for more than 30 years. Our professional advisors have assisted over 100,000 small business owners, individuals, and young people to unlock their potential. Reach out to a Enterprise Plus business advisor now or book a business health checks and advice session for businesses in your region.
ABOUT BUSINESS CONNECT:
Business Connect is a dedicated and personalised NSW Government program that provides trusted advice to help you start, run, adapt or grow your small Business.