Hunter Business Development Forum
Businesses seeking to understand new ways of managing risk will not want to miss this workshop-focused Business Development Forum.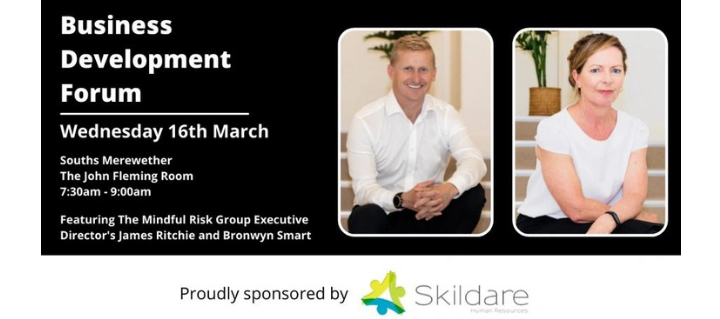 As the world emerges with trepidation from two years of business and community upheaval at the hands of the most virulent pandemic event in 100 years, new global uncertainty arises through geopolitical forces that may well threaten the global economic order and the nature of doing business in these uncertain times.
The Mindful Risk Group, take a fiercely modern, optimistic and proactive approach to advising and shaping risk strategies for some of Australia's leading corporates, industries and SMEs. They offer a wide range of services aimed at knowing, planning for and managing risk exposure and maximising the value of organisational risk management efforts. They are one of Australia's leading risk, governance and safety consulting, research & advisory firms providing focused and personalised solutions to high regulated sectors.
The Mindful Risk group takes the notion of risk management and applies it in innovative ways to current economic and business settings. How small businesses might address growing supply chain pressures? Can we prepare our businesses against a watershed moment of international travel reopening marred against geopolitical uncertainty which has the potential to actual discourage global mobility, while threatening to depreciate the skilled migration hopes that are tied to open borders? How would business best prepare for new technologies and the phasing down of traditional ways of doing business? These questions contribute to the existing overall need to reframe the way risk is identified, planned for and managed in the late 2020s. It's good to know there are answers.