Making the Future: Hunter Innovation Festival Roadshow Breakfast Lake Mac
Join Lake Mac Council for a morning of inspiration, innovation, and networking.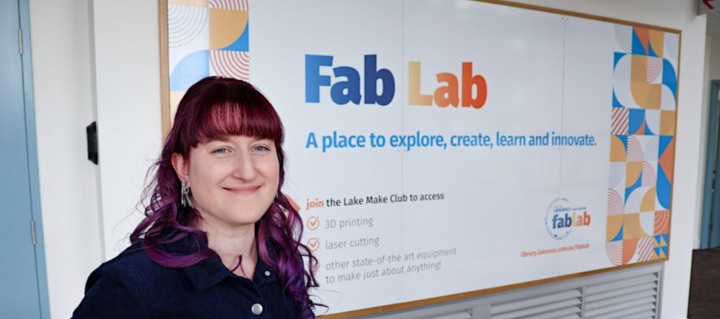 In a world driven by innovation, making has become a cornerstone of individual, business, and community progress. From small-scale workshops to global movements, the act of creating, tinkering, and inventing is changing the way we approach problem-solving, entrepreneurship, and sustainability.
Join Lake Mac Council for this networking breakfast and hear from industry speakers, including Lake Macquarie City Council's Fab Lab Lead, Claire Chaikin-Bryan.
Refreshments and breakfast will be provided.
Limited tickets are available, so be sure to reserve your ticket early to guarantee your spot at this exciting event.
Topics Covered
Fab Labs: Explore the global network of Digital Fabrication Laboratories (Fab Labs) and discover how these creative spaces empower individuals, communities and businesses to turn ideas into tangible reality. Also hear about the Hunter's own Fab Lab; the Lake Mac Libraries Fab Lab.
Fab City: Learn about the exciting concept of Fab City, where cities envision a future where they produce locally what they consume globally, fostering economic resilience and sustainability.
What You'll Gain by Attending
Inspiration: Gain fresh perspectives on innovation and the power of making to drive change.
Knowledge: Acquire insights into Fab Labs, the maker movement, and Fab City, and how these concepts are influencing innovation worldwide.
Networking: Connect with like-minded professionals, entrepreneurs, and innovators from the Hunter region, opening doors to potential collaborations and opportunities.
This event is being hosted by Lake Macquarie City Council as part of the Hunter Innovation Festival Roadshow.
About the Hunter Innovation Festival
Established in 2002, the Hunter Innovation Festival began as an associated event of The Australian Innovation Festival, a national event that showcased Australian innovation. The festival has evolved since 2002, but at its core, the festival remains a collaboration that brings together people from throughout the community to meet, be inspired, learn and share ideas. Each year, the festival is made possible by the dedication and hard work of those who participate in the local innovation ecosystem.
Today's festival is managed by local innovation not-for-profit organisation Hunter iF Limited. Hunter iF collaborates with a range of organisations dedicated to creativity, innovation, entrepreneurship and intrapreneurship in the Hunter region. The 2023 Festival will consist of the roadshow, conference, showcase and action summit from October 9th to 26th, and will take place at various locations throughout the region.
The festival aims to inspire and promote a culture of innovation amongst Hunter businesses, researchers, industry and the wider community to help position the Hunter region as an internationally recognised centre for innovation. To learn more about the 2023 Hunter Innovation Festival, visit the website at https://hunterinnovationfestival.org/

For more info on Hunter iF, visit www.hunterif.com.au.