HunterNet Resources and Energy Forum - Offshore Wind Opportunities
Join Star of the South Chief Development Officer Erin Coldham and offshore wind career professional James Perry as they share more about the experience of building an offshore wind sector in regional Australia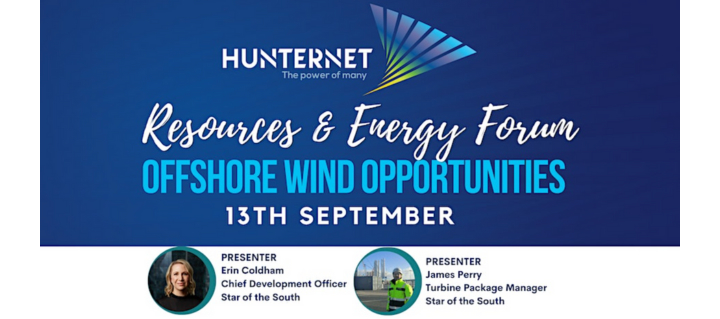 Offshore wind opportunities for the Hunter have stepped up a gear with the Commonwealth Government officially seeking licence applications for an area off the coast of Newcastle.
The team and investment behind Australia's most advanced offshore wind project – Star of the South – will be on hand at the HunterNet forum on 13 September to unpack this topic, answer questions and make connections. Star of the South is backed by investment and industry-leading expertise from Copenhagen Infrastructure Partners – claimed to be the world's largest renewable fund manager and leading offshore wind developer in emerging offshore wind markets.
Join Chief Development Officer Erin Coldham and her colleague, offshore wind career professional James Perry as they discuss the outlook for the Hunter. This is a great opportunity to express interest in servicing Australia's emerging offshore wind sector across Gippsland, the Hunter and beyond as this developer builds an Australian regional picture of supply chain and industry opportunities.
Please arrive at 7.45am for an 8am start

Morning tea provided
SPEAKERS
Erin Coldham is the Chief Development Officer at Star of the South – Australia's most advanced offshore wind project. Erin brings decades of experience in major project planning and delivery and currently oversees Star of the South's development activities, working with industry, regulators, policymakers, and local communities to bring offshore wind to regional Australia. Erin is part of a global team of offshore wind specialists representing more than 30 nationalities across the world, delivering for the world's largest green energy fund manager, Copenhagen Infrastructure Partners. Included in A Word About Wind's Global Top 100 Women's Power List 2021, Erin is a champion for diversity in the energy industry and is driven by the positive opportunities offshore wind represents for Australia.
James Perry is the turbine package manager for the Star of the South project and is leading the Technical Development team for the feasibility licence application for the Hunter region. James has worked in offshore wind for 15 years in both development and construction phases working for the turbine supplier SiemensGamesa in the United Kingdom through a period of intense industry growth. During his time on three major UK offshore wind projects, James has led work in assessment of both internal and external fabrication, assembly and supply processes giving him insight into areas where local supply has worked well, and where it has failed to succeed.