Hydrogen Energy Webinar Series – Session 3: Infrastructure
The H2AUS: Online Forum Series aims to provide a platform to discuss the development and potential for a new industry in hydrogen, building on Australia's geographical advantages, export capabilities and strong relationships with key local and international energy markets, as well as creating a platform to view and share best practice techniques from around the world.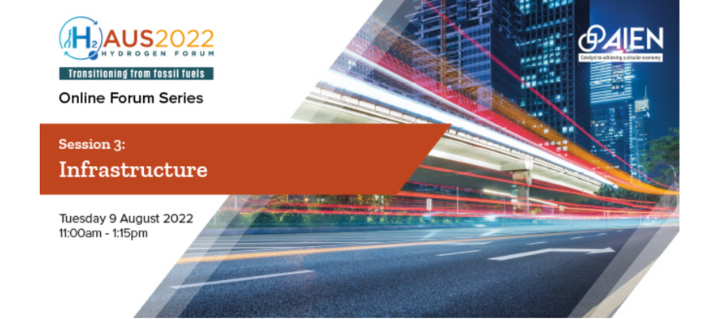 Session 3 (9 August): Infrastructure
Featured presentations:
The Energy Transition Pendulum – Finding balance in the swing for long term success
Laura Stadler, Frio Valley Infrastructure (USA)
Laura will speak about the importance of valuing both blue and green hydrogen production. The critical need to utilize existing infrastructure and existing professionals who can help build foundational partnerships and assets to launch the hydrogen movement successfully and safely. She will give insight to the US Market for energy transition and how the US is navigating this from both a local and global perspective.
Using Simulation for Generation, Transport, Delivery & Storage of Hydrogen
Joel Thakker, LEAP Australia
Numerical simulation in the form of CFD, FEA and systems modelling have long been used successfully in the process industries. In the rapidly developing world of hydrogen applications, simulation is now helping engineers meet design specifications from concept through to delivery stages of a project
Towards the Australian PEM GIgastack for Industrial Decarbonisation
Dr Neil Thompson, ITM Power
The challenge for heavy industry decarbonisation in Australia cannot be addressed via electrification and use of renewable electricity alone. PEM electrolysers are required to provide green hydrogen and stabilise the electricity grid in response to increasing penetration of variable renewable energy. This presentation provides an overview of progress in Australia on development of the first PEM type electrolyser at the GW scale as needed for industrial decarbonisation.
ENGV – 'H2 Integration' Lessons from real Australian project deployment – with Nel, PDC, Hexagon Purus and Powercell support!
Sean Blythe, ENGV
Being first is not always easy! Learn from ENGV's experiences and lessons learnt in project development, deployment and operations of H2 electrolysis, compressor, refuelling & fuel cells in the Australian economic, commercial and technical market.
Click here to view the program online and for more information about the series
UPCOMING WEBINARS:
Session 4 (16 Aug): Hydrogen in a Circular Economy
Session 5 (23 Aug): Case Studies
Click here to download the webinar series program in PDF format