I2N Hub Honeysuckle Tours
I2N Hub Honeysuckle has been purpose-built to support enterprise skill development, new venture creation, and scale-ups.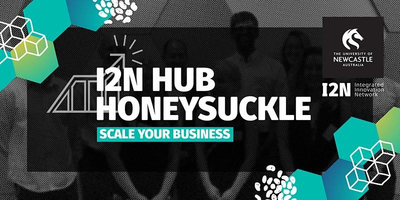 NOTE: This event is recurring every Wednesday morning at 9am. Go to the event page and find the drop down box on the right to see alternative dates.
Cowork with a diverse community of globally-minded founders and first-hires while accessing the support you need to grow your business, regardless of your affiliation to the University of Newcastle.
On this tour you'll get a look into the building and spaces available to you with membership. I2N Hub Honeysuckle comprises:
Innovation Common (ground floor) offering innovation concierge service, teamwork, events and meeting spaces, and a maker space;
Seminar Space (level 2) for the delivery of I2N and affiliate programs and events, and venue hire; and
Incubator (level 3) offering open plan co-working and private offices for startups and scaleups complemented by Zoom-enabled meeting rooms and a board room, breakout spaces, and a communal kitchen.
Find out more in advance of your tour on the I2N Hub Honeysuckle webpage.