Industrial revolution: German leadership on decarbonising industry
With energy saving now compulsory across all economic sectors in Germany and the European Union recently updating its Energy Efficiency Directive, it's the perfect time to discuss what Australia can learn from Germany's industrial energy efficiency policies and programs.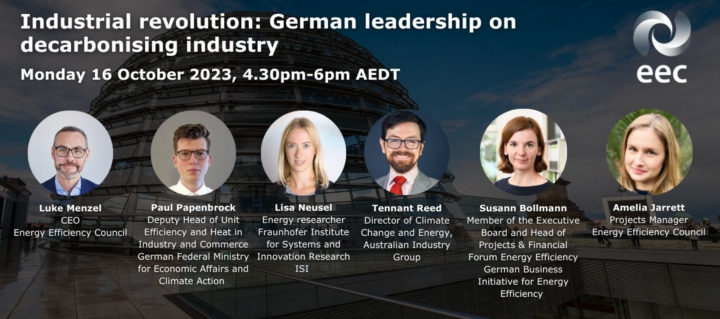 Continuing the ongoing collaboration between German and Australian energy efficiency organisations that began with the first "Further, faster, together" report in 2021; this webinar gathers some of Germany and Australia's leading energy efficiency experts for a conversation about the policies driving industrial decarbonisation in Germany, and how Germany's leading approach can be applied in Australia.
SPEAKERS:
Susann Bollmann, Member of the Executive Board and Head of Projects & Financial Forum Energy Efficiency, German Business Initiative for Energy Efficiency; Amelia Jarrett, Projects Manager, EEC; Luke Menzel, CEO, EEC; Lisa Neusel, Energy Researcher, Fraunhofer Institute for Systems and Innovation Research ISI; Paul Papenbrock, Deputy Head of Unit Efficiency and Heat in Industry and Commerce in the German Federal Ministry for Economic Affairs and Climate Action; and Tennant Reed, Director, Climate Change and Energy at the Australian Industry Group.