Installer Roadshow - Standards Mess: AS/NZS 5033:2021 Meets the Real World
The solar industry has been rocked by the real world application of an Australian Standard. This time it was the May 19, 2022 introduction of solar array standard AS/NZS 5033:2021.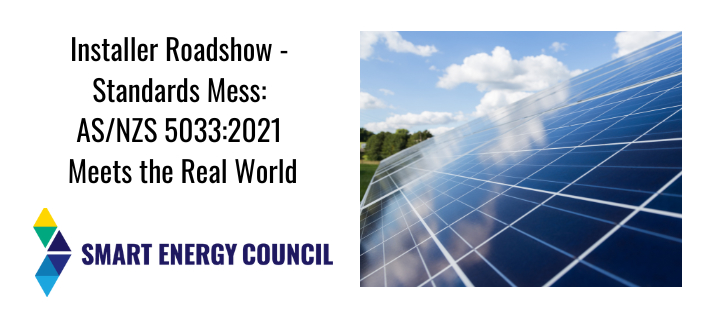 Confusion and frustration among designers, installers, manufacturers and suppliers is at an all time high, with industry confidence once again shaken.
In a half-hour session, popular trainer and Smart Energy Council Director Geoff Bragg will unpack the problems, how we got here, and give up-to-date advice on how to comply.
Some issues that will be discussed include:
The lack of a transition period for NSW
Still trapped at 600V for residential installations
New solar cable conforming to IEC62930
What the 1.25 multiple of panel Isc required on Inverter inputs means for your solar designs and installs
And any other issues yet to come to light!
Smart Energy Council is inviting you to an informative afternoon industry gathering, followed by food and networking drinks provided by Trina Solar.
On the agenda we also have presentations by the Clean Energy Regulator and event partners: Emerging Energy Solutions, GoodWe, Growatt, Risen Energy, Solar Juice and Solis.
Presentation subjects and CPD points pending approval.