Integrating climate change into business strategy
A discussion on the importance of having a strategic approach for integrating climate change into strategy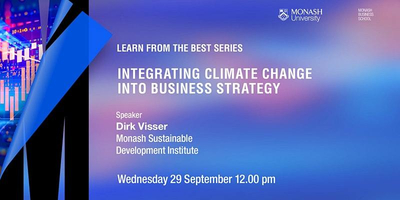 The Intergovernmental Panel on Climate Change (IPCC) released in early August the updated assessment report of climate science and it was called a "code red for humanity" by the UN Secretary General. Investors, regulators and customers increasingly acknowledge climate change as one of the defining challenges of our generation. It is already affecting business operations, reshaping markets and the structure of the economy. The changing climate is no longer just a corporate responsibility issue: It's a financial and strategic issue. Yet most businesses have not yet integrated climate into their core strategies.
Join Monash for their upcoming Masterclass on 29 September to explore the different climate risks and how it affects all of the economy and your entire value chain. The session will draw on the recommendations of the Task Force on Climate-Related Financial Disclosures (TCFD) to discuss strategic responses.
This one-hour lunchtime Learn From The Best Masterclass, is presented by Monash Business School's Executive Education team and features Dirk Visser, a Lecturer and Program Manager at Monash Sustainable Development Institute (MSDI). Dirk has more than 10-years experience working at the interface of business and sustainability by helping organisations develop more sustainable strategies and building the capacity of individuals to enact sustainable solutions.
MSDI, working through its unit Climateworks Australia, acts as a bridge between research and action to identify, model and enable end-to-end solutions to climate change. It works with ASX listed companies, investors, energy utility providers, peak industry bodies, local and international research institutes, community groups and across all levels of Australian government.
ClimateWorks' 'Decarbonisation Futures' Project investigates different scenarios to understand the potential futures that could lead to a well below 2°C outcome for Australia. They are helping some of Australia's biggest companies with their climate strategies and scenario analysis to help them understand what net zero means for them, to assess their transition risks and opportunities and build the capacity of its staff.
Order of events
12.00pm - Welcome
12.05pm - Presentation by Dirk Visser
12.45pm - General Q&A
1.00pm - Event concludes