Intellectual Property for your business
Are you unsure about aspects of intellectual property and want to get some clarity?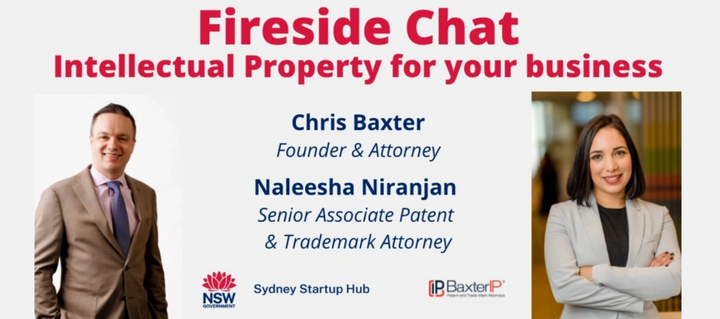 An interactive fireside chat that will cover intellectual property topics such as types of IP considerations for startups and ways you can leverage your IP.
Chris Baxter, Founder of and Attorney at Baxter IP Patent and Trademark Attorneys and Naleesha Niranjan, Senior Associate Patent and Trademark Attorney will discuss aspects of intellectual property providing a better understanding on how it is relevant to your specific business and how you can protect it to effect.

Key takeaways
Find out what types of IP are relevant to your startup that you need to protect
Find out when to file for IP
Sort out ownership issues earlier rather than later
Have mechanisms in place internally to ensure your IP gets protected and is transferred appropriately
Who should attend
Built for startups and small to medium businesses who are tech driven or have brands they want to protect.
This informal setting is your opportunity to hear directly from two industry experts and gain a better understanding of intellectual property with the opportunity to ask questions.

About the speakers
Chris Baxter began his intellectual property career working at a large Australian IP firm, then joined the in-house team at one of Australia's largest medical devices companies, before leaving in 2007 to establish Baxter IP.

Under Chris' leadership, the firm has grown to a team of 27 patent & trade mark attorneys and administrative staff, with offices in Sydney and Melbourne. Chris advises a client base comprised of multinational corporations, universities and SMEs, as well as venture capital firms, tech start-ups and entrepreneurs.

Chris has broad technological experience spanning, in particular: medtech, defence, software and aerospace inventions. He specialises in providing strategic, cross-jurisdictional intellectual property advice on complex patent portfolios and dispute matters. He understands the nexus of IP and its significance in the commercial licensing and capital raising process. Clients benefit from Chris' holistic approach, which focuses on their commercial interests, as well as the legal processes involved.

Naleesha Niranjan is a Senior Associate at Baxter IP's Sydney office. Naleesha's practice is in engineering with a focus on medical technologies. Her clientele include medical device and health technology clients, and university spin-outs.