Interim knowledge sharing on the Jemena DER Hosting Capacity Project
Pre-register for this knowledge sharing webinar hosted by Jemena, AusNet Services and UNSW Sydney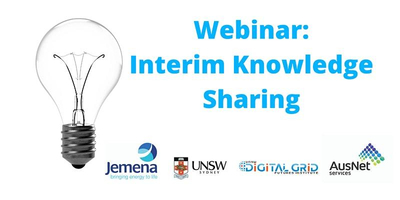 Jemena, with its project partners AusNet Services and UNSW Sydney, is running an ARENA funded trial to demonstrate innovative technologies to increase the hosting capacity of DER (Distributed Energy Resources) on a low voltage electricity distribution network and help create solar-friendly neighbourhoods.
Join them for presentations and information sessions into various aspects of the project: bench testing, network modelling, installation and commissioning, early results and approach to trial and innovation.
10.00am – Welcome and Introduction
10.05am – Network Modelling and LV Phase balancing
10.20am – Appliance Testing
10.30am – Q&A
10.40am – Installation and Commissioning
10.50am – Battery Energy Storage System
11.00am – Final Q&A and wrap up
This event will be held via Zoom. An event link will be distributed to registered attendees prior.
About The Speakers
Dr Peter Wong
Network Technology & Measurement Manager, Jemena
Peter's current role in Jemena includes the development of strategies relating to new technology applications such as smart network, demand management and data analytics
Professor Z.Y. (Joe) Dong
Director, UNSW Digital Grid Futures Institute
Joe is a Fellow of the IEEE. Research interests include power system planning/stability, smart grid/micro-grid, load modeling, renewable energy grid connection, electricity market, and numerical methods for power systems
Dr Cuo Zhang (& Dr Bin Liu)
Research Associate, UNSW School of Electrical Engineering & Telecommunications
Cuo's research interests include power system planning and operation, voltage stability and control, microgrids, multi-energy systems, and applications of optimization theory in these areas. Cuo and Bin won Best conference Paper Award at The 8th International Conference on Renewable Power Generation hosted by IET
Miss Asanka Paranamana
Project Engineer Emerging Markets, AusNet Services
Asanka has project managed and contributed to several leading network innovation projects focussed on distributed energy resources such as solar power, battery storage and network optimisation.
These have included the Networks Renewed project at Yackandandah that won the 2019 CEC Innovation Award, the Mooroolbark Mini Grid project and the Grid Energy Storage System.
Note: The Latest project progress reports have been published by ARENA and can be downloaded below:
Demonstration of Three Dynamic Grid-Side Technologies
DER Hosting Capacity Project Interim Knowledge Sharing Report