International Mining and Resources Conference & Expo (IMARC) Online
In response to COVID-19, IMARC 2020 has been postponed to 26-28 October 2021. IMARC Online will run from 24-27 November 2020.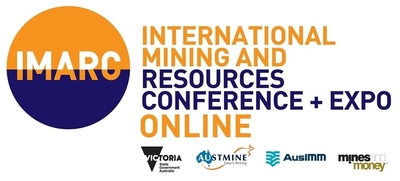 The IMARC Connect meeting platform takes the work out of networking. With a fully integrated video system, you can connect and meet face-to-face with potential customers from anywhere in the world without having to leave your home, or your desk.
Every year IMARC attracts decision makers, mining leaders, policy makers, investors, commodity buyers, technical experts, innovators and educators from more than 100 countries. IMARC is the only place you can meet the entire industry with more than 65 hours of networking opportunities.
Hear from leaders in the mining industry who are tackling the big challenges and working through solutions facing our industry today. Discussing global and national trends, you'll get a macro outlook of the industry, and learn about mining's role in the global economic recovery post COVID-19.