Jindera Business Health Check
A Business Health Check will provide you with a free one on one session with your local Business Advisor and will give you useful and practical guidance to help identify your business strengths and weaknesses and help you prioritise steps to grow your business.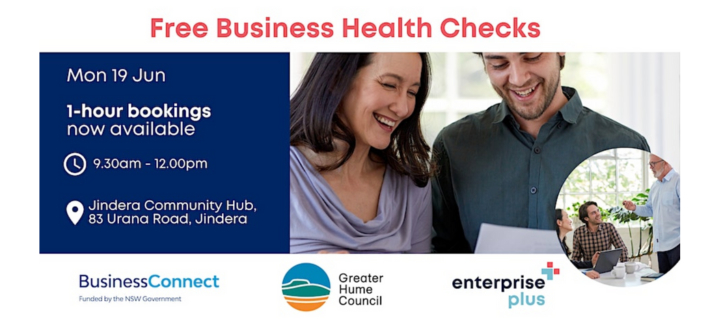 The Business Health Check provides you with comprehensive insights covering:
Business direction
Customers and competition
Profitability
Staff and business culture
Future needs and risks
Digital trends and needs
The Business Health Checks are delivered in partnership with the Greater Hume Shire Council, Enterprise Plus and the NSW Business Connect program.
Each session will be 1-hour as part of the 8 hours available for each business from The NSW Business Connect Programs. Start-ups are also welcome to book a session.
This Business Connect event is funded by the NSW Government #NSWBusinessConnect