Join the Dots Virtually - Building a Team
Hear from founders throughout the region as they dive into how to build a high powered team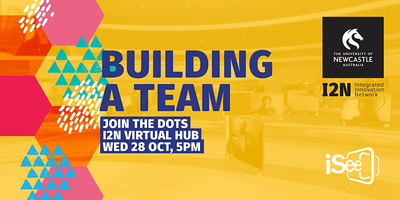 For October's Join the Dots event, I2N will flip the physical dynamic as they dive into building a team, hosted in the I2N Virtual Hub. Hear from founders as they share their experience finding co-founders or making their first hires, and the pieces of knowledge they wish they'd known back then, followed by networking to help attendees join the dots for potential future collaboration. Make sure to BYO your favourite drink for some virtual networking from the couch after the presentations!
Presenters include:
=================
What is the I2N Virtual Hub?
The I2N Virtual Hub is hosted by iSee, the next evolution of video communication that combines the authenticity of live video with the functionality of 3D virtual worlds. This allows participants to move around and have natural conversations with others just like in the real world.
What is I2N?
The University of Newcastle's Integrated Innovation Network (I2N) fuels the success of innovators and entrepreneurs by connecting them with other founders, mentors, experts, customers and investors, turning their ideas into global impact.
Program Partner
UON is proud to be able to bring this event to you via the NSW State Government's Boosting Business Innovation Program.