Launch of the ARC Training Centre for the Global Hydrogen Economy
GlobH2E Centre Launch - showcasing the first year of ARC Training Centre for the Global Hydrogen Economy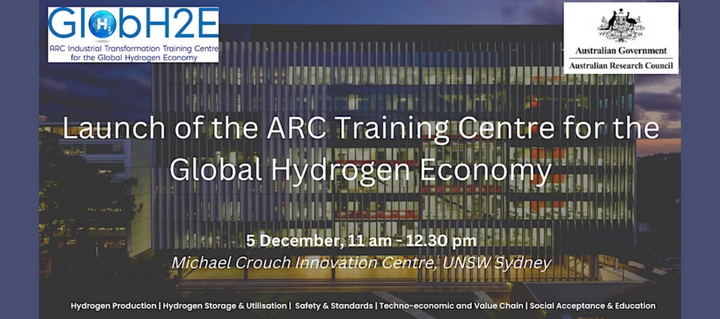 AGENDA

10:30 am : Registration and arrival for participants
11.00 - 11.40 am : Formal Launch
11.40 - 12.30 pm : Refreshment, Poster Session and Networking
GlobH2E are cordially inviting you to the launch of the ARC Training Centre for the Global Hydrogen Economy (GlobH2E). The launch will also be the first face to face event since the commencement of the Centre. At this event, they will be introducing the Centre members, industry partners as well as showcasing the work of the researchers.
About GlobH2E (https://www.globh2e.org.au/)
The Australian Research Council (ARC) Training Centre for the Global Hydrogen Economy (GlobH2E) is an international consortium of research institutions, industry partners, government agencies and hydrogen start-ups. Our vision is to be an innovative research training centre which acts as a collaborative focal point between world-class teams in the areas of chemical, safety and manufacturing engineering; materials science and theoretical modelling; social science; and energy market analysis.
​GlobH2E's mission is to deliver industrial transformation via development of innovative, cost-effective hydrogen technologies, combined with business skills to support and facilitate Australia's transformation into a world-leading hydrogen powerhouse. We address industry's urgent need by providing training to the next generation of industry-focused researchers to implement and commercialise advanced hydrogen technologies and develop business frameworks and safety standard.
GlobH2E is co-led by Scientia Professor Rose Amal (UNSW Sydney) and Professor Francois Aguey Zinsou Kondo (the University of Sydney). The GlobH2E commenced in June 2021 and consisted of 20 Chief Investigators across 6 Australian Universities (UNSW, University of Sydney, University of Queensland, University of Newcastle, Curtin University and Monash University), 17 Partner Investigators from 4 overseas institutions and 13 Industry partners.
The ARC has provided funding of $4.92million over five years to GlobH2E and the Centre also received funding from Industry partners to work on projects spanning from hydrogen production, storage and utilisation, safety and feasibility studies for scale up and export market and social acceptance.
The ARC CEO, the Minister for Education, representatives from universities, industry representatives and GlobH2E members have been invited to attend the launch event.