Leverage Vietnam's Free Trade Agreements & expand your global reach
It is critical that business leverage free trade agreements for global supply chains in a post-pandemic world.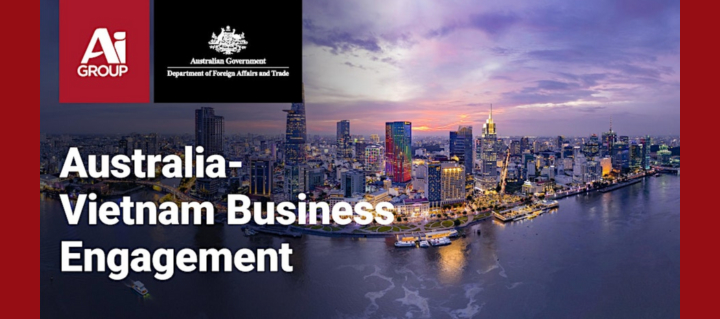 In the recent Ai Group CEO Survey for 2023, business leaders identified two main challenges afflicting Australian industry: skills shortages and supply chain. Supply chain disruptions were the top factor shaping business investment plans with companies focusing on internal measures to improve supply chains. Top strategies include building inventories/lead times and optimising operational processes. Many will increase sales prices or attempt to move some production in-house.
So what strategies are you putting in place to ensure supply chain resilience?
Note: This is a FREE event for Australian businesses. However, registration is necessary to secure your spot.
Why attend:
Global supply chains were affected by the recent pandemic with goods and supplies shortages, temporary trade restrictions, port closures, and unexpected customs duties impacted the supply chains hard. Therefore, it is critical that business leverage free trade agreements for global supply chains in a post-pandemic world.
With globalisation comes a new era of trade, and Australia's FTAs with Vietnam make it easier than ever before for businesses to grow their revenue and become global brands in this market and beyond.
Vietnam's FTAs has also enabled its economic development to shift away from exporting low-tech manufacturing products and primary goods to more complex high-tech or advanced manufacturing goods.
Vietnam is boosting its competitiveness by diversifying its sourcing partners through larger trade networks and more-cost effective imports of intermediate goods from partner countries. Some of Vietnam's recent FTAs have extended its trade integration partners well beyond Asia, and enabled Vietnam to take advantage of reduced tariffs, both within the ASEAN Economic Community (AEC) and with the EU and US to attract global brands to produce in Vietnam and export to markets outside the ASEAN regions.
Workshop content:
This interactive online workshop will cover topics including:
Identifying your competitive advantages with Vietnam
Knowing how and where your industry fits into the market
Understanding your unique position under various Vietnam's FTAs
Positioning your exports against global competitors
Meeting the compliance and qualification processes
Tools and resources to support your FTA journey.
Through this program, you will learn how to use various FTAs confidently to gain a competitive advantage in Vietnam and beyond.
Who should attend:

Business Owners, Senior Management Team, Export Development Team, Exporters, Importers, and those seeking to expand their exports, supply and value chains in the market.
Facilitator:
Shirley Ng, National Manager International Competitiveness, Australian Industry Group. Find out more on LINKEDIN
Ai Group Trade Mission & Market Visit Program to Vietnam in 2024
Participants who have completed this workshop can explore the opportunity to join an Ai Group Trade Mission & Market Visit Program with pre-arranged meetings for you to meet with your prospective business partners, validate your opportunities or identify gaps in the market on which you can capitalise on.
If you have any further questions regarding this program, please email: big@aigroup.com.au