Lunch & Learn: Don't be a boomerang – get scaling overseas right the first time
Looking to scale globally?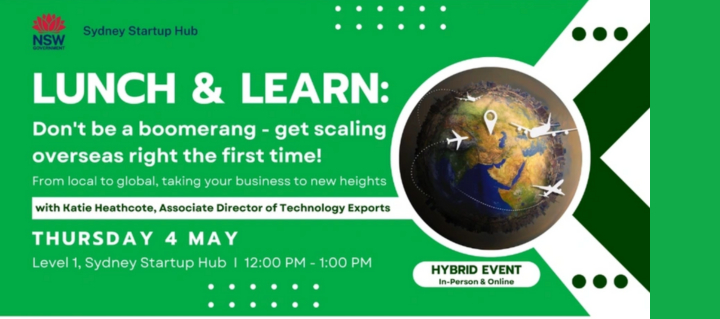 Join Katie Heathcote, Associate Director of Technology Exports on Thursday, 4 May at 12:00pm, online or in-person at the Sydney Startup Hub as she presents the top things to consider when Going Global, this will include tips and tricks plus common mistakes.
Find out how the Going Global team at Investment NSW can facilitate new export growth opportunities to help your startup! Hear how they can guide SMEs to compete internationally to harness their competitive advantages, find opportunities to engage with new customers in their target market, and strengthen international partnerships at all levels.
The tech services team can assist NSW technology startups to scale globally by providing free, confidential advice to startups, scale ups and new companies, across all technology disciplines including agtech, health, fintech, cyber, edtech, digital games, and climate tech.

In this session, Katie will answer the following questions to help you achieve overseas success:
Should I expand abroad?
Is the timing right?
What are my milestones?
Who is my competition?
What are my industry dynamics?
What is my ideal customer profile?
What is my budget?
How much do I like flying?
Who will be my team?
For more information, head to: Going Global Export Program or better yet, register your spot now and attend in person to have all your questions answered.

ONLINE REGISTRATIONS:
For those attending online, an event link will be delivered via email one day prior to the event.