Gain expert guidance on managing traceability in the manufacturing and distribution industry.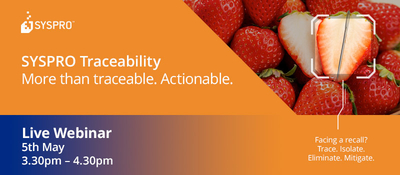 Live Panel Discussion with Syed Shah, Managing Editor of Manufacturers' Monthly, and Product Operations Manager at SYSPRO, Roger Landman, to discuss implementing a robust traceability system and a failsafe recall management plan.

Topics Include:

• Background to traceability
• Legislative considerations
• How to create a traceability system
• Product recall procedures and plans
• The role of SYSPRO ERP
• Customer traceability experience

The Live Panel Discussion will be followed by a Q&A session with participants.