MESCA Resource Industry Update : Opportunities in a Net Zero World
Join MESCA for an important Update MESCA Briefing - the opportunities emerging in our industry in 2021 and beyond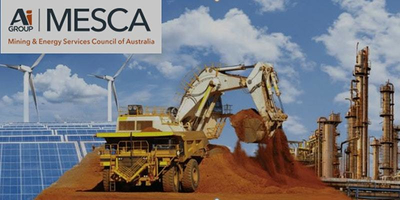 Sponsored by the Hunter Valley regional office of the Australian Industry Group (Ai Group) the webinar is relevant to all businesses in the coal and energy regions of Australia.
'There is a buffet of opportunities for small businesses in the existing and emerging energy sectors in Australia. ' Paul Hodgson, GM (East Coast) NERA.
The 90-minute webinar will feature expert speakers on economic analysis, industry structure, industry opportunities and business improvements. The webinar will assist MESCA members and other attendees to understand the opportunities emerging as a result of Covid and other recent economic impacts. It will also address ways business can secure and succeed in the new opportunities
The webinar is a follow-on from the recent MESCA October Economic Briefing. In recognition of the current difficulties of Covid, the webinar is free-of-charge.