Mitsui & Co CEO Leadership Luncheon
Join Austmine on Thursday 20 July 2023 for their CEO Leadership Luncheon in Sydney with Wendy Holdenson, Director - Mitsui & Co. (Australia).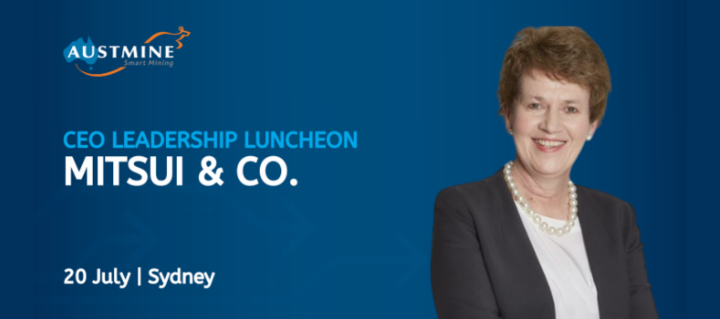 Meeting mining's energy transition through trusted partnerships
Resources and energy has been at the centre of the Australia-Japan relationship, and Mitsui has been there from the beginning.
Since first setting up a Sydney office in 1901, Mitsui has nurtured long term partnerships and transitioned from an offtake partner to strategic investor. With large equity positions in upstream assets, Mitsui is now working across the mining value chain to meet the decarbonisation challenges of the future. From electrification, to electrolizers, critical infrastructure to carbon credits, join us as we discuss how technology will create pathways towards net zero.
Wendy Holdensen
Director, Mitsui & Co. Australia
Wendy has been a Director and held C-suite roles at Mitsui & Co. Australia since 2014. The Mitsui Group's Australian operations account for over 40 per cent of the conglomerate's global profits, and Wendy is working to realise the company's ambitious business development and diversification agenda. With strong partnerships across many sectors, Mitsui's portfolio of businesses here span iron ore, coal, gas, oil, food, salt, woodchips, renewable energy generation, machinery, steel products, chemicals, technology and financial services.
Before joining Mitsui, Wendy worked extensively in both the public and private sectors. She represented Australia in Japan as Consul-General and Trade & Investment Commissioner. In that role, she successfully attracted foreign investment to benefit Australia's energy, biotechnology, IT and food sectors. She was then State Director of Western Australia/South Australia/Northern Territory for the Australian Trade Commission. Wendy has also held executive positions in Ernst & Young, Caltex, and GHD. She is a proponent of innovation as the key to sustainability and has championed innovation programs throughout her career.
Wendy is passionate about young Australians' mobility in Asia today. She is a Trustee for the Mitsui Educational Foundation which started over 50 years ago, and a Business Champion for the Australian Government's New Colombo Plan.

Wendy has served on education institution and government boards. She is on the UNSW Business School Advisory Board, and currently mentors students there. Wendy's interests extend to social issues, and she was an inaugural Board member on the Maggie Beer Foundation, set up to see policy reform for a better food experience for residents in aged-care homes throughout Australia.

Wendy has a Master of Commerce from UNSW; her under-graduate degree is from Sophia University, Tokyo.
Registration
Austmine Members $85 + GST

Austmine's CEO Leadership Luncheons are member-only events limited to one person per member company of a senior executive level.