Mobilisation report launch: How to make net zero happen
Join the public release of the Net Zero Australia (NZAu) project's mobilisation report on Wednesday 12 July 2023.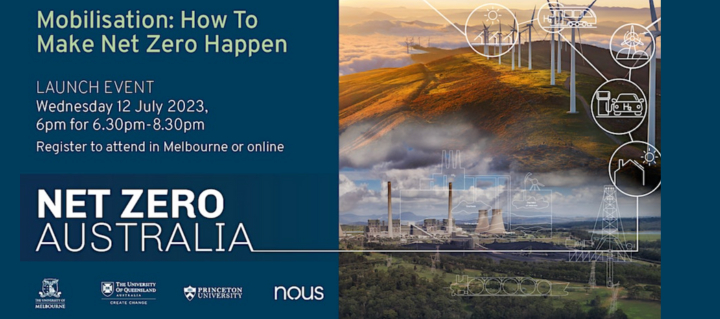 The NZAu partnership released their final modelling report in April, which projected the energy mix, costs and other parameters for six net zero scenarios. It concluded that net zero is both an immense challenge and a once in a generation, globally significant and nation building opportunity.
How to make net zero happen asks what governments, business and households should do to accelerate towards this goal. It tackles questions such as:
Which net-zero options should we accelerate? Onshore wind and solar are well underway; should we also support offshore wind, carbon capture and storage, and nuclear? How?
What role in global decarbonisation do we want to play? How can we phase out fossil fuel exports while building exports of clean hydrogen and minerals, often to the same customers?
How should we share net zero's costs and benefits among Australians? Net zero will increase costs for all energy consumers and affect different groups differently. How do we minimise these impacts and share benefits with all Australians fairly?
How can we roll out renewables while improving the environment? Renewables and networks will change landscapes and clear land. How can we reach net zero emissions whilst protecting and potentially even improving biodiversity and agriculture?
What more should governments, businesses, communities, and households do? And should they work together better? How?
Launched in 2021, the Net Zero Australia study provides rigorous and independent analysis of the pathways by which Australia can fully decarbonise our domestic economy and exports. It is a grant-funded partnership of The University of Melbourne, University of Queensland, Princeton University and management consultancy Nous Group.
This public event is hosted by The University of Melbourne. It will be held in person and streamed online.
Date: Wednesday 12 July 2023
Time: 6pm for 6:30–9:30pm AEST
Location: Carrillo Gantner Theatre, Level B1, Sidney Myer Asia Centre, Swanston St, Carlton, and online via Zoom