Navigating a dynamic energy landscape series: Farmers and smart energy management
The Energy Efficiency Council and the National Farmers' Federation will launch a briefing on the big energy management opportunities being leveraged by leading Aussie farms.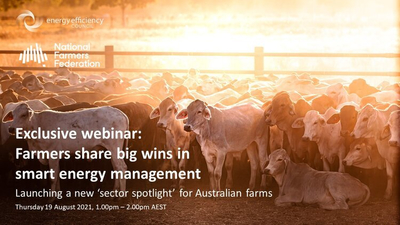 This 'sector spotlight' is the latest in the Navigating a dynamic energy landscape series, and will highlight cost-effective opportunities for smart energy management being leveraged by farms to cut costs, improve productivity and reduce emissions.

Hear from farmers who are leading their sector, successfully managing the risks and capturing the opportunities of Australia's energy transition. In particular:
- Edwina Beveridge, Farmer, Blantyre Farms, a piggery in NSW;
- Dean Cayley, Owner and Operator, Cayley farms, a mixed cropping farm in QLD; and
- Karin Stark, Founder, National Renewables in Agriculture Conference.

You can learn more about Navigating a dynamic energy landscape, and the Energy Efficiency Council's wider business engagement program at energybriefing.org.au.