New Caledonia Market Update
Join Austmine, DFAT and AMD for a mining market update in New Caledonia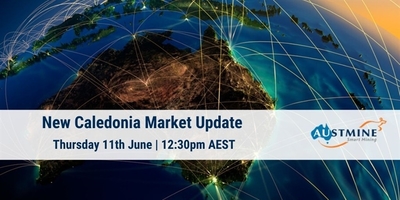 New Caledonia is a key market for Australian Mining Equipment, Technology and Services (METS) companies given its close proximity and long-held business ties with Australia. With a number of large-scale mining operations and process plants, New Caledonia is the world's 4th largest producer of nickel.
Following the global impact of COVID-19, Austmine will host this session to provide information and insights on the current status of the local market and the situation for trade and travel with Australia.
This webinar will discuss:
The impact of COVID-19 on New Caledonia;
The current status of mining operations across the country and operational priorities;
Rules and regulations surrounding trade, travel and business activity;
Implications for Australian businesses operating in or exporting to New Caledonia;
Avenues for collaboration and relationship building during this time;
Questions from the audience on the New Caledonian market.
Speakers:
Department of Foreign Affairs & Trade Australia (DFAT);
Association Maintenance Durable (AMD);
Société Le Nickel (SLN);
Koniambo Nickel (KNS);
Austmine
Webinar Details:
Date: Thursday 11th June 2020
Time: 12.30 - 1.30pm AEST / 10.30 - 11.30am AWST
Cost: Free, but registration is essential
This webinar is open for Austmine and AMD members only.
Contact membership@austmine.com.au for any questions and for assistance with registration.