New Export Market Development Grants Program
Join this event to learn about how you could benefit from the new Export Market Development Grants (EMDG) program.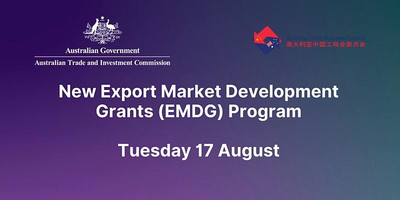 Austrade's EMDG program helps Australian businesses grow their exports in international markets. The grants encourage small to medium enterprises (SMEs) to market and promote their goods and services globally. From 1 July 2021 EMDG will no longer operate as a reimbursement scheme. The new forward looking grant program will retain many of these features and benefits, while enabling you to plan your marketing and promotional activities with confidence. This is because you know how much you will receive over the life of your grant agreement.
Chunguang Liu (Chung), will represent Austrade in this presentation and open discussion about how to seek reimbursement of eligible EMDG expenses to 30 June 2021, or apply for a grant during the 2021-22 financial year.
澳大利亚贸易投资委员会的EMDG计划帮助澳大利亚企业在国际市场上增加出口贸易。这些补助计划鼓励中小型企业在全球营销和推广其商品和服务。从2021年7月1日起,EMDG将不再作为报销计划运行。新的前瞻性补助计划将保留许多原有计划的功能和好处,同时使您能够自信地规划营销和促销活动。
本次活动将讲解如何利用EMDG计划报销2021年6月30号之前的开销,并如何在2021-22财政年度申请补助金。
Date: Tuesday, 17 August 2021
Time: 1:00pm - 2:00pm AEST
Format: Online via Webex
Price: Free for ACBC Members
Speaker Bio
Chunguang Liu, Senior Adviser, Austrade
Chunguang Liu (Chung) is a qualified lawyer specialising in business and administrative law. Chung is currently an Assistant Manager in the Export Market Development Grants (EMDG) reform implementation team. Prior to that Chung worked as a Senior Grants Auditor, responsible for representing Austrade in matters relating to EMDG before the Administrative Appeals Tribunal and Federal Court.