New Horizons for Australia's Hydropower
The Clean Energy Council invites you to join the industry for an afternoon of free interactive webinars exploring the enormous opportunities of hydropower in Australia.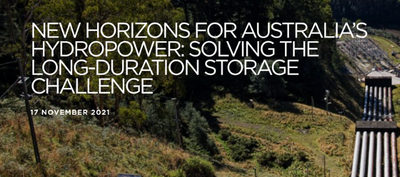 Comprising of three sessions, this virtual event will provide an update on the opportunities and status of hydropower in Australia and the implications of the latest wave of policy initiatives and regulatory reform for new pumped hydro developments.
Please note, recordings of each session will be made available to all registered ticketholders within 24 hours of the event.
Session 1: Hydropower in the global and Australian energy system
2.00 pm – 2.45 pm AEDT

With each new megawatt of solar and wind capacity that is installed, the role of hydropower becomes more critical in unlocking Australia's clean energy future. Tune into this session, featuring former Australian Prime Minister Malcolm Turnbull, as we explore the impacts of hydropower around the globe and how Australia can make the most of this important technology.

Session 2: Hydropower and the energy market
3.00 pm – 3.45 pm AEDT
For hydropower to achieve its full potential in ensuring a reliable and secure energy system, it will be necessary to reform the energy market to realise the full value of the system services and long-duration storage that it provides. Tune into this session to hear from a panel of energy policy experts as they discuss the reforms required to build the case for long-duration energy storage and new pumped hydro projects.

Session 3: Hydropower technology and project innovation
3.50 pm – 4.30 pm AEDT
While hydropower is a mature technology that has been producing clean, reliable electricity for more than a century, innovation still plays an important role in the planning of exciting new developments and improving efficiencies in existing projects. Tune in to this session to discover the latest technology trends and innovations and explore a variety of case studies with our panel of experts.