NewH2 Knowledge Exchange – July
Join NewH2 to hear the latest updates from NSW Government Hydrogen team along with updates from AGL.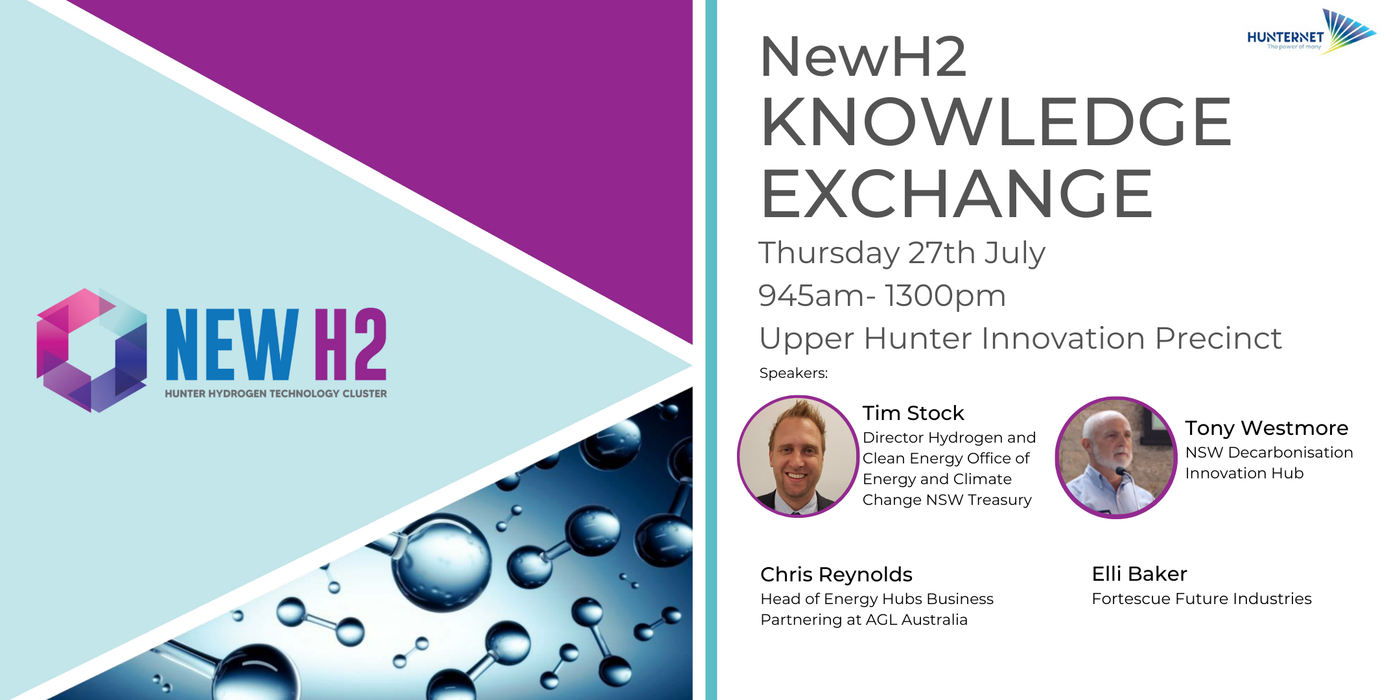 Chris Reynolds from AGL and Ellie Baker from Fortescue Future Industries will provide an update on feasibility work and investigation of their potentially GW scale hydrogen and ammonia production and export project based at AGL's Liddell and Bayswater Power Station site in the Upper Hunter.
The Knowledge Exchange event will also feature an Upper Hunter Precinct tour, an update from the NSW Decarbonisation Innovation Hub, and panel of experts speaking about workforce skills needed for the Hunter's energy transition.
The Upper Hunter Precinct is located within the Muswellbrook Tertiary Education Centre (TEC), alongside TAFE NSW and Muswellbrook Library.
9.45 Arrival and registration
10-10.45 Tour of the precinct.
10.45-11 Tea/Coffee break
11-11.20 Tim Stock, Director, Hydrogen and Clean Energy, NSW Office of Energy and Climate Change
11.20-11.35 AGL Update on Hunter Hub
11.35-11.50 NSW Decarbonisation Innovation Hub
11.50 -12.30 Workforce Skills Panel, facilitated by Nick Couper COO HunterNet Career Connections – Panelists – Kathy Cox, Peter Schreiner & Myles Egan
12.30 -1 Networking & light lunch
Speakers
Tim Stock – Director Hydrogen and Clean Energy programs – Office of Energy and Climate Change NSW Treasury – Tim has over 15 years of commercial and government experience in the clean energy industry in Australia and abroad. Currently he is the Director Hydrogen and Clean Energy programs at the Office of Energy and Climate Change within NSW Treasury, where he is leading the implementation of the $3Billion NSW Hydrogen Strategy. Tim also leads several other sustainable and renewable energy initiatives, with a focus on future fuels and bioenergy and is also the chair of the National GreenPower Accreditation program.
Tony Westmore – Hub Manager, NSW Decarbonisation Innovation Hub – Tony Westmore has been working at the intersection of energy and climate policy for nearly two decades, as a researcher and advocate, manager and communicator. Most recently as general manager at the Australian Alliance for Energy Productivity, he collaborated on the design and delivery of projects ranging from policy and program development to feasibility and demonstration, with a focus on manufacturing, agriculture, transport and the links between.
Chris Reynolds – Head of Energy Hubs Business Partnering at AGL Australia – Chris has close to 20 years' experience with AGL Energy in various roles. They include Head of Legal – Retail and New Energy, Head of Technology Investments and Head of Commercial – Decentralised Energy Resources. Chris' current role is Head of Energy Hubs Business Partnering, in which he is responsible for building the eco systems to enable the transition of AGL's thermal generation sites into green hydrogen energy hubs.
Elli Baker – Fortescue Future Industries – Elli Baker is an experienced commercial, financial and major projects executive leader with 30 years' working across financial markets, government and utilities (energy and water) sectors. Over the past 5 years Elli has led close to $25 billion of major infrastructure projects in NSW for both asset owner/operators and construction contractors including Water NSW, Acciona, Plenary, Transgrid and now FFI. Elli is currently leading FFI's green hydrogen projects in the Hunter and Illawarra.

Workforce Skills Panel
The Panel will be facilitated by Nick Couper the Chief Operating Officer with HunterNet Career Connections, with over 15 years' experience in the Vocational Education and Training sector. Professionally, Nick values creating new opportunities for organisations and their employees to be able to receive quality training with outcomes to set themselves up for success. This can be achieved by understanding business plans and strategically mapping the staffing resources needs at the correct timeline of an organisations business plan.
Peter Schreiner is part of the Industry Innovation Team at TAFE NSW and has over 25 years' experience across a spectrum of tertiary education sector providers in roles including: technical teacher, educational administrator, curriculum project officer, and industry liaison in the manufacturing and engineering sector. This is coupled with over 15 years' experience working in the advanced manufacturing industry in trade and technical roles.
Myles Egan is a Research Analyst at the University of Newcastle's Institute for Regional Futures. In this role, Myles is involved in a diverse range research projects that are providing evidence and strategy to support regional communities in making the best decisions for their future, including in response to the energy and resources transition impacting regions such as the Hunter.
Kathy Cox is the Training Services Manager for Training Services NSW Hunter & Central Coast, supporting workforce training and development. Kathy was responsible for coordinating the inaugural Upper Hunter Renewables RoundTable held in Singleton in December 2022 at which renewable industry stakeholders connected with training experts to start to identify and match skills required for the region's transition to clean energy.
Parking
The Donald Horne Building, 140 Bridge Street, Muswellbrook NSW 2333 - please refer to images below for details on parking. PARKING is behind the Donald Horne Building and Muswellbrook Library with vehicle entry via Brook Street (Hill Street entrance closed due to road works).