NewH2 Knowledge Exchange – September
Join NewH2 for their September Knowledge Exchange proudly hosted by Port of Newcastle.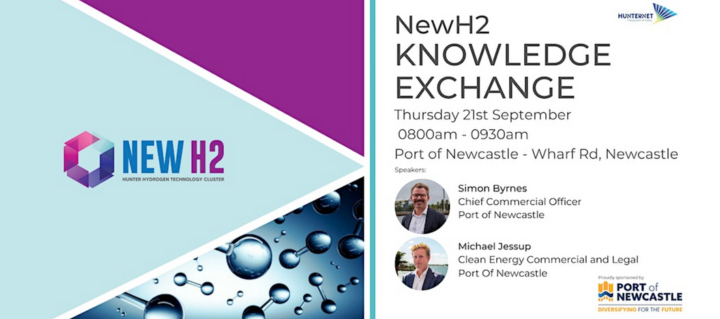 This Knowledge Exchange offers an update on variety of complementary endeavors: NewH2 Patron supporter Port of Newcastle Clean Energy Precinct and it's recent studies on Offshore Wind; the Scaling Green Hydrogen Cooperative Research Centre, and CSIRO's Ammonia Metal Membrane Technology.
Speakers include Paul Hodgson from the Scaling Green Hydrogen CRC, Simon Byrnes, Michael Jessup from the Port of Newcastle and David Viano from CSIRO.
Learn about the PON's recently concluded pre-feasibility study on offshore wind, as well as a future feasibility study co-funded with EnergyCo, as well what is in the pipeline of works into next year.
Paul Hodgson from Hydrogen CRC will present an update on the Scaling Green Hydrogen Cooperative Research Centre bid and how it's shaping up for the decade to 2034.
This forum will allow you to connect with industry leaders, experts, and stakeholders who are invested in the future success of New Energy in the Hunter.

Please ensure arrival at 7.45am for 8am start.
SPEAKERS
Paul Hodgson - Hydrogen CRC
Paul Hodgson is CEO of the Scaling Green Hydrogen Cooperative Research Centre Bid and an advisor in innovation, the energy transition and economic growth. The CRC recently lodged its Stage 2 submission with 97 partners contributing $163m of cash and in-kind.
With a Bachelor of International Business and a Master of Sustainable Development, he is passionate about developing local talent and enterprise capability and deploying it into the global energy transition. He is delighted to be in the Hunter region again to provide an update on the CRC.
Simon Byrnes - PON
Mr. Byrnes is responsible for functions associated with Commercial, Energy, Strategy & Innovation and Business & Market Intelligence (BMI), in addition to Executive Leadership, Strategy, and Stakeholder Engagement.
Mr Byrnes has in-depth experience in establishing new, trans-disciplinary teams that leverage diversity and drive a values lead approach to navigate complexity and develop resilience. Prior to the Port of Newcastle, Simon led the aeronautical business function at Hobart Airport, doubling the number of destinations served by the airport, securing a City Deal and delivering over $100M infrastructure in 2 years.
Prior to that, Simon planned and delivered the infrastructure strategy, and the business architecture solutions, for a number of Australia's leading infrastructure organisations across more than $15B in infrastructure projects, including airports, rail, road, telecommunications and utilities.
Mr Byrnes has graduated from Harvard Business School's Advanced Management Program, is completing a master's degree in Creative Intelligence and Strategic Innovation at UTS and has undergraduate degrees in Finance and Law from UNSW. and is a graduate of the Australian Institute of Company Directors.
Michael Jessup - PON
Michael Jessup is the Port of Newcastle's Clean Energy commercial and legal lead. He is responsible for the delivery of the Port's commercial partnering strategies on the Clean Energy Precinct and is leading the Port's offshore and onshore wind facilitation strategy. Michael's background is in law, having worked for top tier firms in the Sydney and London markets, including most recently at Ashurst LLP where he was part of the construction advisory practice. Michael's experience spans across several sectors of the industry, including large-scale public infrastructure projects, rail and renewable energy.
David Viano - CSIRO
David Viano is a research scientist at CSIRO with over 30 years' experience in research and development. He is part of a team developing metal membrane technology (MMT) for use in separating hydrogen from mixed gas feeds. This technology was first demonstrated in 2018 where CSIRO successfully separated hydrogen from decomposed ammonia at a purity suitable for refuelling fuel cell electric vehicles (FCEVs).