NSW Cleantech Showcase to India
NSW clean energy technology/solution providers interested in exploring market opportunities are invited to apply for participation in the NSW Cleantech showcase to India.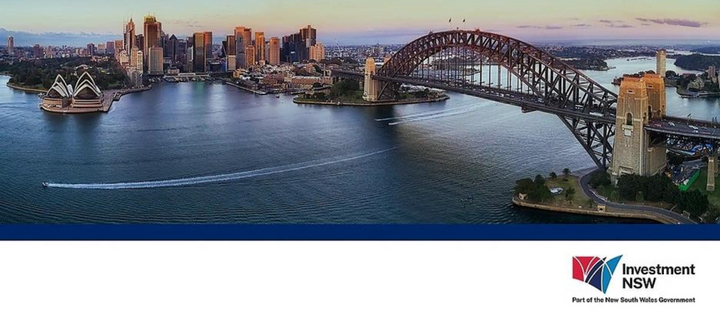 Who should participate?
NSW clean energy technology /solution providers exploring India market opportunities.
Target Indian companies: Indian renewable technology companies offering hydrogen, fuel cells, energy storage, energy efficiency, renewables integration, off grid renewables solutions.
Why participate?
Gain firsthand market insights.
Develop networks with key stakeholders.
Benefit from the opportunity to pitch directly to decision makers.
Explore possibilities of supply opportunities, trial projects, technology transfer.
Attend and exhibit at the 9th International Hydrogen and Fuel Cell Conference and benefit from networking with potential partners/customers, exclusive profiling at an "Australia session on hydrogen & fuel cell innovative technologies" and showcase at a stall during the exhibition.
Background
India plans for increasing the renewable energy capacity up to 225 GW by 2022 and aims to rise to 450 GW in renewable energy sources by the year 2030.
India has set up the goal to achieve up to 40% of its total energy requirement through the renewal of energy sources.
Despite the pandemic led dip in investment, the year 2020 has presented many high points for the sector, led by companies offering phased enhancements to clean technologies in areas like grid management and electric vehicle charging. Today, around 20-25% of start-ups in India are working towards the advancements of clean electricity.
Indian private sector companies such as Reliance Industries Ltd and Adani have massive energy transition plans and are investing billions of dollars to realize them by creating giga factories to manufacture solar PV models, fuel cells, electrolytes and batteries, infrastructure, renewable-energy generation, component manufacturing, enter green-hydrogen production & power data centres via renewable energy.
Sub sector opportunities
1. Hydrogen - Strategy for 'National Hydrogen Mission launched in FY 2021-22, and many leading private sector corporations are committed to extracting the potential of green hydrogen, thereby driving the demand for technology. Recent policy developments portray India's serious intentions in transitioning towards green hydrogen in the long term. India's government has proposed spending towards pilot projects, infrastructure & supply chain, research and development, and regulations and public outreach by 2024 in its Union budget for FY 2021-22. The demand for hydrogen is expected to see a 5-fold jump to 28 MT by 2050 where 80 per cent of the demand is expected to be green in nature.
2. Energy storage - during 2019-2025, the cumulative potential of energy storage is estimated to be between 270 to 365 GWh on a business-as-usual and best-case scenario respectively. Under the National Energy Storage Mission (NESM), the Indian government proposes to take all possible measures to incentivise advanced energy storage manufacturing in India. NESM also addresses the issues related to the raw materials available for manufacturing and the government had already started discussions with resource rich countries such as Bolivia and Australia.
3. Energy efficiency - India's vision is to become a major Electric Vehicle adopting nation by 2030 and government measures to launch Performance Linked Incentive (PLI) scheme for boosting the manufacturing ecosystem development & battery swapping to ensure uptake. The Perform Achieve and Trade (PAT) scheme, a flagship programme under the National Mission for Enhanced Energy Efficiency (NMEEE) has been extended to a 4th cycle increasing coverage of industrial energy use. Rising space cooling energy demand is expected to quadruple to 2040 as living standards improve and purchasing power rises, driving energy efficiency and cooling requirements in commercial buildings.
Programme (Subject to change)
Wednesday, 30th November, Mumbai
Group pitch/meetings with any 4 leading Indian clean technology companies such as
Thursday, 1 December, Ahmedabad
Fly from Mumbai to Ahmedabad
Group pitch/meetings with 4 leading Indian clean technology companies such as
Fly from Ahmedabad to Delhi.
Friday, 2 December, Delhi
Group pitch/meetings with 4 leading Indian clean technology companies such as
Saturday, 3 December, Delhi
Group pitch/meetings with leading Indian clean technology companies such as
Sunday, 4th December, New Delhi
Attend 9th International Hydrogen and Fuel Cell Conference
Monday, 5th December, New Delhi
Attend 9th International Hydrogen and Fuel Cell Conference.
Depart for Australia.