Nu-Rock Engineered Sustainable Rock - Supply Chain Opportunities
Join HunterNet's next Energy & Resources Forum on Nu-Rock Engineered Sustainable Rock - Supply Chain Opportunities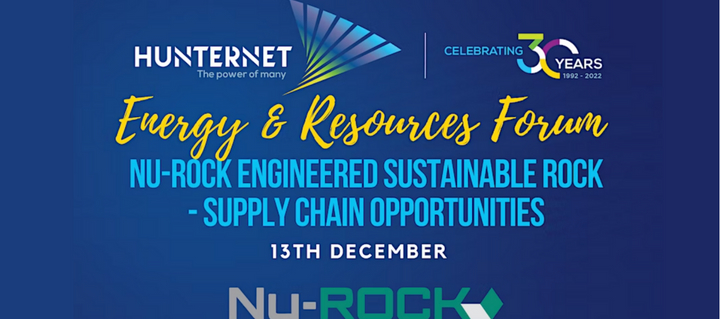 Nu-Rock Industries Engineered Rock Supply Chain Forum
Future plants to be established at AGL Macquarie and Energy Australia Mt Piper Power Stations.
Supply chain forum for all Building trades such as Civil works Formwork and Concreting slabs, structural steel framing, cladding, internal works, plumbing electrical works, supply and installation for the plants Equipment, conveyors, silos, Supply and installation. Upon production logistics, transport, offtake agreements for products.
Nu-Rock developed products:
Blocks, Bricks and Pavers
Retaining wall blocks
Sand and Aggregates for mining
Shotcreting for tunnels and pools etc.
Blast Walls
Roof tiles
Railway sleepers
Steel Structures Fire Rated
Poured Concrete to name a few in the range.