Opportunity Horizon from the NSW Electricity Infrastructure Roadmap
The roll out of the NSW Electricity Infrastructure Roadmap is gathering pace and will provide many new opportunities for businesses across NSW and especially in the Hunter. This is a chance to hear the latest from representatives of the main entities involved in the Electricity Infrastructure Roadmap.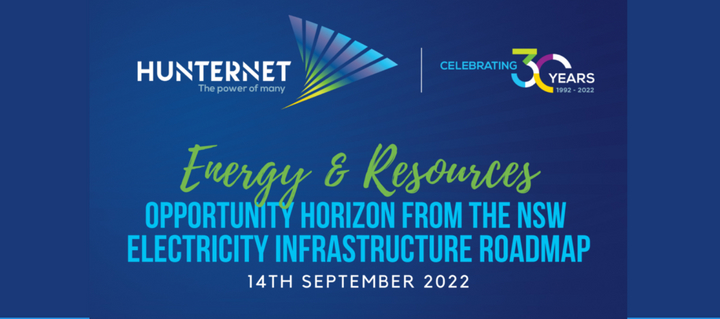 The presentation will provide an overview and dimensions of the activities to be undertaken across the five renewable energy zones (REZ) – Hunter/Central Coast, Illawarra, South West, New England and the Central West/Orana - and the many varied opportunities that will arise from this development.

Speakers include Dr Mark Apthorpe, NSW's first Electricity Infrastructure Jobs Advocate. Mark was appointed by the Minister of Energy in February 2022. His role is to advise the Minister on strategies and incentives to encourage investment, development, workforce development, employment and education and training opportunities in the energy sector in NSW. Since his appointment Mark has been consulting widely with the many NSW government entities involved in the Roadmap as well as a wide range of stakeholders in the REZs.

Energy Corporation NSW (Energy Co) will lead the delivery of the Roadmap. Their role involves strategic, holistic planning for each REZ, including technical and regulatory design. They are engaging with the local community and key stakeholders, acquiring land and easements required for REZ network infrastructure, developing and overseeing the Environmental Impact Statement processes and running a competitive tender process to appoint a Network Operator to design, build, finance, operate and maintain the REZ network infrastructure.

Representing Energy Co will be Charlie Wilson, Senior Policy and Project Officer, a key member of the EnergyCo team for the past two years leading work on the Hunter-Central Coast and Illawarra Renewable Energy Zones.

AEMO Services Ltd (ASL), is the NSW Consumer Trustee, whose role in the Roadmap is to act in the interests of electricity consumers in NSW so that our state can continue to enjoy clean and reliable energy into the future. They are responsible for running competitive tenders for construction and operation of renewable energy generation and long duration storage infrastructure in NSW. An ASL representative may not be able to attend due to other commitments, but will contribute content to the presentation.