Peruvian Mining Innovation - Opportunities for Australian METS
Join Austmine and the Australia Peru Chamber of Commerce (APCCI), along with their international partners, to explore opportunities for Australian METS companies to provide innovative solutions to the Peruvian mining market.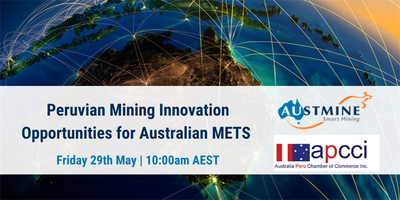 Peru is one of the leading mining markets in South America and is home to many large-scale gold, silver and copper projects. Major Peruvian mining companies are embracing innovative technologies and new ways of doing business as they strive to boost operational efficiencies, increase productivity and competitiveness and thrive in a challenging social and economic environment.
This presents opportunities for Australian METS companies to transfer their world-leading expertise and unique solutions to the Peruvian market.
In this session the panel will explore:
Current business environment in Peru and the impact of COVID-19
Status of the Peruvian mining industry and focus areas for the future
Key challenges in the Peruvian market and requirements from the supply sector
Drivers of innovation and technology uptake in Peru
Advice for Australian METS companies in accessing Peruvian supply opportunities
Strengthening relationships between the Australian and Peru mining industry
Expert Panel:
Elizabeth Castro, President, APCCI
Emilio Gómez Gutierrez, CEO & Co-Founder, Linkminers
Diana Nelson, Australian Ambassador to Peru
Rafael Estrada, Manager of Information Technology, Telecommunications and Process, Antamina Mining Company
Colin McVie, Manager – Define (Corporate Consulting), Mining Plus
Christine Gibbs Stewart, CEO, Austmine - Moderator
Registration:
This is a must-attend webinar for Australian METS companies with an interest in the Peruvian mining market.
The webinar is free to attend and exclusive for Austmine, APCCI and Australia-Latin America Business Council (ALABC) member companies.
For any assistance or further information contact membership@austmine.com.au.