Why Brand Clarity is the Number 1 Factor in Helping You Pivot
Understanding the key elements to successful exporting and importing is critical to going global and building your business for the future.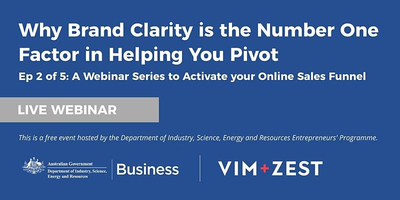 Ep 2 of 5 – A Webinar Series to Activate your Online Sales Funnel
Did you know that even before COVID-19 hit, 92 percent of companies thought their businesses would need to pivot towards a more digital or online model?*
With all new demographics starting to look for products and services online for the first time, waiting for signs of recovery to pivot will be too late.
So how do you start?
The Entrepreneurs Programme and Department of Industry, Science, Energy and Resources (AusIndustry) has teamed up with Vim + Zest, leaders in marketing and Personal branding, to support Australian businesses operate better online.
Join us for the second webinar in this FREE five part series providing clear action steps that can be implemented immediately to grow your business online.
Leave this webinar with a new understanding of what your brand stands for, where it's going and the map you need to get there.
Take away easy steps to understand:
How to articulate your unique brand proposition
How you can leverage your Personal Brand to drive business growth
How to speak directly to your audience
What to say right now
There are only limited tickets available to this FREE event.
Don't miss out. Register NOW to pivot your business for immediate sales and loyal buyers.
For more information on this webinar, please contact Maria Collyer on 0417 277 367.
Upcoming Episodes
Personal Branding – the Smartest Strategy to Build Your Business - 22 May
How to Tell Your Power Story and Build Your Authority Position - 29 May
Activating the Brand Spiral for Business Growth - 5 June
Presenters
Trudy Johnston
University Masters' Level Lecturer and leader of Vim + Zest, Trudy Johnston has been a driving force behind change-makers for more than 25 years. She was the voice behind successful and iconic Australian events such as Sydney2000 Olympics and mentor to business people and entrepreneurs with purpose.
Tiare Leahy
An accomplished digital strategist, Tiare has extensive experience in building brands and growing market share from start-ups through to large global organisations. Her results-driven approach has fuelled the achievements of brands such as Audi, Accor Hotels, Red Bull and the Australian Broadcasting Commission.
Leading industry experts that show you how to:
Deeply understand audience buying behaviours and their Path to Purchase
Implement new Lead Generation strategies to drive sign-ups and sales
Understand your website functionality better so it propels your audience into your lead generation funnel.

Please note, this is a free webinar series hosted by the Department of Industry, Science, Energy and Resources Entrepreneurs' Programme.
The Entrepreneurs' Programme provides quality advice and support to assist businesses to innovate and grow. For further information on what services may be available to you, visit: business.gov.au/EP
If you have any questions about this Webinar series please contact EPLearningEvents@industry.gov.au