Protect Your Business by Managing Risk - Cessnock
If you want your business to survive, you need to have a well-thought-out disaster plan.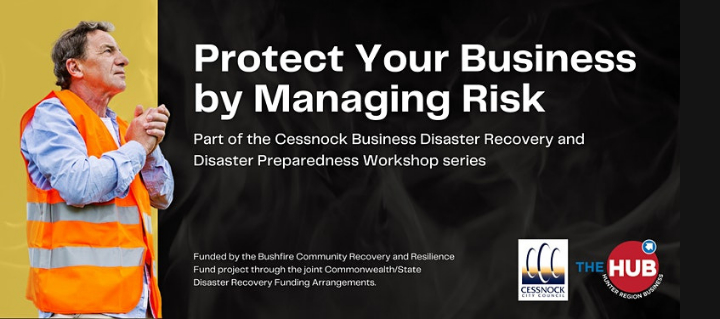 Every business owner needs to be aware of and manage the risks that could affect their business, whether it be product quality, bushfires, or even a global pandemic. While it's not possible to eliminate the risk altogether, it's critically important to have a well-thought-out plan to turn to when something does go wrong. Limit the impact of adversity, help your business recover, and plan the best chance of survival.
Participants at this event will:
1. Learn to identify, analyse and evaluate risks
2. Gain an understanding of the different types of business risks
3. Conduct a risk assessment for their business
4. Understand relevant insurances to offset risks
5. Manage mental health and workplace safety
6. Identify critical environmental impacts
7. Create a business continuity plan
8. Develop an emergency action plan
IMPORTANT: This event is specifically for Small Businesses located in the Cessnock area of NSW only.
This event is the first of a series of three events being run as part of the Cessnock Business Disaster Recovery and Disaster Preparedness Workshops .
The Hunter Region Business Hub (HUB) in cooperation with Cessnock City Council, is pleased to announce the launch of their Business Disaster Recovery and Disaster Preparedness Workshops to help businesses not only get back on their feet but thrive.
These events are funded by the Bushfire Community Recovery and Resilience Fund project through the joint Commonwealth/State Disaster Recovery Funding Arrangements.
For more information or to register your interest in the program, please contact Troy White at the HUB on (02) 4936 2557 or visit our website www.huntervalleyhub.com.au.
This event follows NSW Health government Covid Safe Guidelines.
A light lunch and refreshments will be served during the event.
Bookings are essential. Please note spaces are limited. Don't miss out - reserve your ticket today.