Regional Hydrogen Technology Clusters | Seed Funding Information Session Webinar
This interactive webinar will help businesses understand how the Hydrogen Seed Funding program works, the eligibility criteria, navigate the application process and develop a competitive application. By the end of the webinar, participants will have a greater understanding of the seed funding program and the application process.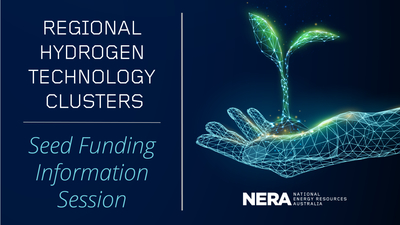 NERA has recently opened applications for the Regional Hydrogen Technology Cluster Seed Funding Program, which will support the formation of a network of hydrogen clusters around Australia to accelerate and optimise the development of hydrogen technology and expertise.
Facilitated by NERA CEO Miranda Taylor & Paul Hodgson, NERA General Manager Innovation and Stakeholder Engagement (East Coast), this one-hour webinar will feature:

• Program overview, including an introduction to NERA, the Australian Hydrogen landscape and the importance of clusters for accelerating supply chain development
• Information on the application process, including timelines, eligibility and the submission process
• Information on how to write and coordinate a competitive application
• Insights into the selection process and awarding of funds
• Live Q&A